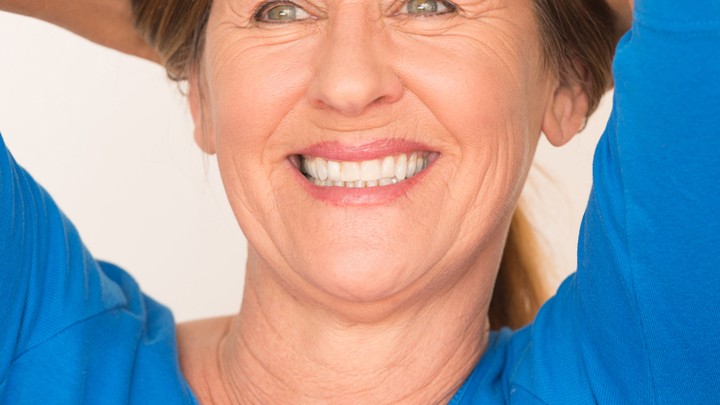 Your face looks great, your figure is good, you're happy with your hairstyle, you own a gorgeous wardrobe of clothes. What more do you want? A nice looking neck.
Easier said than done because as we age the jaw becomes less defined, fat accumulates, skin loosens and muscles weaken beneath the chin. Skin on the neck tends to be fine and has less sebum nature's moisturiser. Not to mention the downward pull of gravity!
YOU HAVE FOUR OPTIONS TO IMPROVE THE LOOK OF YOUR NECK:
1. Use neck creams.
2. Undertake a chemical peel on the neck.
Ad. Article continues below.
3. Have your neck "lifted" surgically.
4. Camouflage your neck and use optical illusions
NECK CREAMS
Specially formulated neck creams can help give a lovely smooth neck and are most beneficial especially for crepe-iness.
TIP: If applied more than once each day, the result will be noticeable.
Ad. Article continues below.
My recommendation is to use a moisturising neck lotion or cream containing peptides for maximum benefit. Use a gel product to avoid the look of cream collected in creases. Check the Sanctuary Spa, John Plunkett and Skinstitut ranges. Matrixyl is the trade name for the latest cosmetic peptide. Remember to include the neck in your nighttime beauty routine – once again I recommend a peptide night cream.
CHEMICAL PEELS
Chemical peels have enjoyed some popularity as a neck treatment to soften the appearance of neck wrinkles, but word on the grapevine is that those ladies who have tried it are not going to bother again.
THE NECK LIFT
A neck lift involves surgery and all the risks that go with having any operation. The experience among my friends and acquaintances has been disappointment with the results.
Ad. Article continues below.
The wrinkles we are born with and which allow our necks to be flexible become more noticeable with age but seem to defy surgery. There will be a scar and gravity will continue to be in play after the "lift" so any improvement might not be long lasting. Do lots of deep thinking, seek lots of opinion and professional advice before committing to necklift surgery.
CAMOUFLAGE AND ILLUSION
The first and most obvious idea to spring to mind is the scarf. A soft fabric in a flattering shade gently draped around the neck will frame your face prettily and mask your neck. Try chiffon, cashmere, fine wool, silk plus drapey synthetics. The neckerchief will be your neck's best friend when dressing casually. If you are wearing a close crew neck which is inclined to accentuate neck wrinkles, a neckerchief will add a jaunty finish and mask wrinkles at the same time. A neckerchief looks excellent under a shirt collar too. Neckerchiefs are hard to find and you will need several colours and designs. Scan the charity shop and put together a set.
Wear scoop necklines which allow wrinkles to relax downwards.
Polo necks are great camouflage and elongate the look of the neck plus makes you look taller, but beware of wrinkles spilling over the top. A mock turtleneck is good or try turning the turnover of the polo neck inwards instead of outwards and see how it suits you.
Avoid chokers and short necklaces, but longer, showy necklaces finishing on or below the breastbone will draw the eye downwards away from your neck; ditto for a peep of camisole lace or a hint of cleavage.
An upturned collar will leave less of the neck showing and is a classy look anyway.
Always wear a simple necklace at the very least silver or gold chain or string of tiny pearls, say about 35 centimetres long once again to draw the eye away from the neck.
Stand tall, walk tall, sit tall, straight back and draw up your neck. Good posture is key to improving the look of your neck. Team good posture with elegant, flattering clothes, perfect makeup and hair; then your neck will blend with your overall appearance and fade from prominence.
You may begin to feel that your neck is stiffer and more difficult to turn than it used to be less supple, no doubt age and/or arthritis related. Once a day, as part of your exercise routine, to keep the neck flexible, include a slow circling of the neck in both directions. Just once in each direction should do but extend as far as you can. I have heard that yoga is the best beauty treatment for necks and yoga is something that you can enjoy well into senior years.
The sun is your neck's worst enemy and the neck should never be exposed without an S.P.F or a cover up. Never dab perfume on your neck. The sun reacting with the perfume can cause redness like a birthmark and it is nearly impossible to get rid of that mark. The safest place to put perfume is on your handkerchief.
Ad. Article continues below.
Doing your best with your neck will give you a confidence boost, but always remember that the neck is just one feature of our overall look and it is the total package that we are presenting to the world. Step out with plenty of downtown dash, a beaming smile and a positive attitude that says "look at me, I'm looking good".
Share your thoughts below.