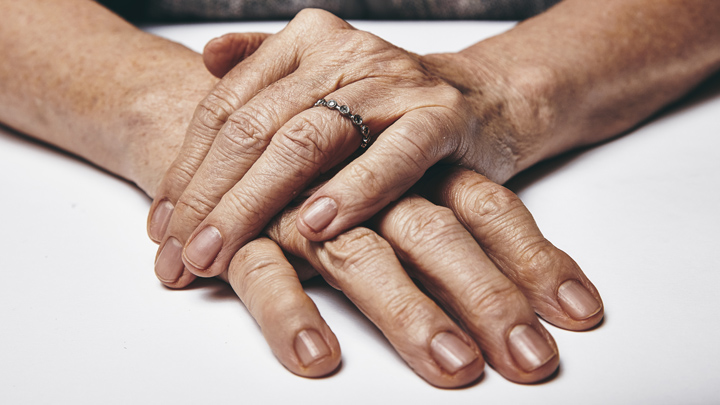 As we get older, our nails can start to show signs of ageing as well. Issues like ridges, discolouration, and curvature of the nail are all common, and to top it all off, nail growth slows down by 40 per cent. To combat this, we've collected a few of the best treatments and remedies to help ageing nails.
For dry, brittle nails try:
Hydrating products
Brittle nails that break and flake are a product of nail dehydration. Using a moisturising product on your nails will help to replenish lost water content and improve nail appearance and flexibility. Moisturising products can be found in the form of oils, balms, creams, and polishes and can be found at your local pharmacy or department store.  A few of our favourite's are Revitanail Nourishing Treatment Oil ($14.99), Manicare Calcium Nail Builder ($14.25), and Sally Hansen Cuticle Eraser and Balm ($10.46).
Ad. Article continues below.
For ridges in nails try:
Exfoliating
Ridges are raised grooves in the nail bed that often occur in people over the age of 50. Dermatologists often recommend exfoliating the nails with a light scrub (you could use your face exfoliator for this) to gently work away the ridges. It is important that you don't buff your nails (with an emery board or something similar) as this will only weaken the nail further and cause more damage.
Ad. Article continues below.
Moisturising
As with our hydrating products above, moisture is extremely important for healthy nails. After you have exfoliated, follow up with a nail and hand cream to  soften the skin and nail. Try Burt's Bees Ultimate Care Hand Cream ($24.99), Clarins Hand and Nail Treatment Cream ($33.00), The Body Shop Vitamin E Hand & Nail Treatment (15.95)
Using ridge fillers
If you like to use nail polish, or simply want smooth and presentable nails, using a ridge-filling base coat or polish will make a drastic improvement. Ridge-fillers do exactly what they say on the tin – the formula lies in between grooves in the nails to create an even, smooth, and younger-looking nail. It's worth investing in a good formula if you regularly paint your nail, try out our favourites like Essie's Ridge Filling Base Coat ($17.95) or their Fill The Gap Treatment ($17.95).
Ad. Article continues below.
For discolouration try:
Lemon juice
An oldie but a goodie, the acidity in lemon juice bleaches nails to return them to their former glory. To try this method, simply mix the juice of one lemon (you can add more if you desire) to a bowl of warm water and soak your nail for up to ten minutes. Nails should appear whiter after every treatment.
Ad. Article continues below.
Whitening products
Like teeth whitening, nail whitening is now a thing. Whitening products use acids and gentle chemicals to treat discolouration in the nail and are as easy to use as applying a normal polish. A great option for yellow nail treatment is the Revitanail Whitening Glow ($14.99).
Have you noticed changes in your own nails? Do you take action against ageing nails?