Sponsored Content
Recipes
9 months ago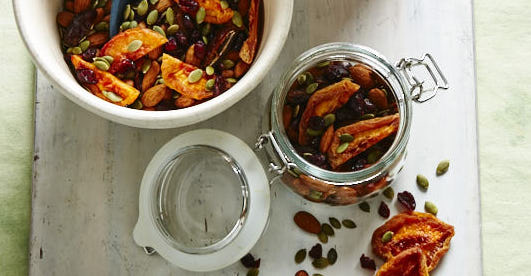 There is no set recipe for trail mix, meaning you can combine the dried fruits, nuts and seeds that you like. Our recipe incorporates delicious peaches, which once dried still retain their full nutrient value and are a good source of dietary fibre and vitamin A, both beneficial for a healthy digestive system and eyesight.
More easy meals for an active life in this video.
Ingredients
150gm Dried Pitted Peaches – cut in half lengthways.
100gm Dried Pitted Dates – cut in half lengthways.
100gm Dried Cranberries
200gm Raw Almonds
100gm Pepitas (kernel of a pumpkin seed)
Method
In a mixing bowl, add the peaches, dates, cranberries, almonds and pepitas and gently mix until they are thoroughly combined.
Place the mixture into an airtight container, seal and store out of direct sunlight until required (the mixture does not need to be refrigerated).
To serve
Decant the required quantity of trail mix into a smaller airtight container.