Tasty chicken cordon bleu meatballs with Dijon cream sauce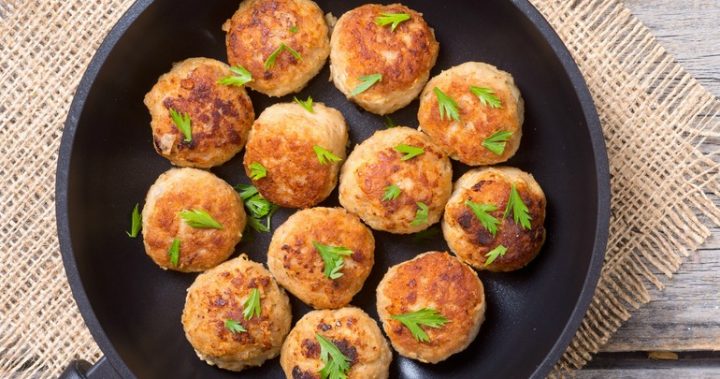 For a bit of a change from regular meatballs, give these delicious chicken cordon bleu meatballs a go!
With an amazing Dijon cream sauce, this dish is sure to become a favourite.
Ingredients
For the Sauce:
2 tablespoons unsalted butter
2 tablespoons flour
1 cup milk
¼ teaspoon ground black pepper
¼ cup cream
1 teaspoon Dijon mustard
½ teaspoon chicken stock powder
½ teaspoon Worcestershire Sauce
¼ cup white wine
¼ cup grated Parmesan Cheese, optional
For the Meatballs:
500g chicken mince
½ teaspoon ground black pepper
1 egg, lightly beaten
½ cup breadcrumbs
5 slices ham, cut into 4 pieces each
5 slices Swiss cheese, cut into 4 pieces each
Canola oil, enough to cover 1/3 up the side of the frypan
½ cup regular breadcrumbs
¼ cup Panko bread crumbs
¼ cup grated Parmesan cheese
½ teaspoon ground black pepper
2 eggs, lightly beaten
1 tablespoon water or milk
Method
1. Melt butter in a frying pan over a medium heat, then sprinkle in flour and whisk until smooth. Slowly add the milk, cream, and pepper, continuing to whisk, then the Dijon mustard, chicken stock, and Worcestershire sauce. Once sauce has thickened, remove from heat and stir in wine and parmesan. Transfer to a lidded container and set aside, and clean frying pan for meatballs.
2. Heat oil in frying pan to 175C. In a bowl, combine chicken, pepper, 1 egg, and 1/2 cup of breadcrumbs. Shape around 1/2 tablespoon of mixture into balls, and flatten slightly. Place a slice of ham and a slice of cheese, and stack another meatball on top and pinch the two sides of meat together.
3. Combine regular breadcrumbs, Panko breadcrumbs, pepper and parmesan in a small bowl. In another bowl, combine beaten eggs and water or milk.
4. Dip meatballs in the egg mixture, then roll in the crumb mixture before placing them in the hot oil (may need to do them in two batches). Cook, turning gently, until cooked through, then drain on paper towel.
5. Discard oil and transfer sauce back to the pan. Once sauce is reheated, add the meatballs and serve.