Spinach and ricotta puffs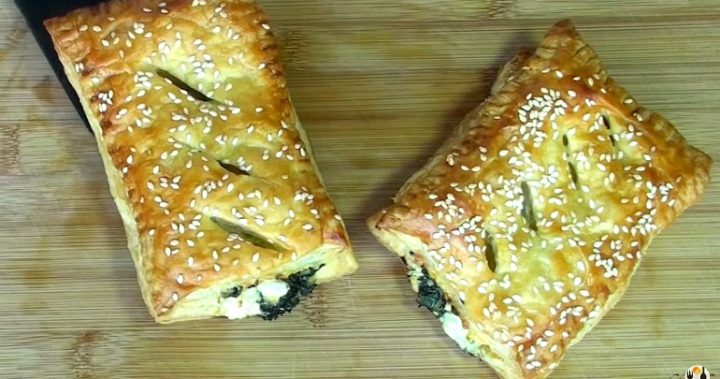 These spinach and ricotta puffs are a great quick fix when you want a tasty and easy dinner! You can use fresh spinach and finely chop and saute it before mixing with the ricotta if you like, but the frozen stuff is just as good and a lot easier to deal with! On top of the great taste, this meal is very budget friendly which is always a great bonus. Sprinkle the top with a few sesame seeds before baking if you like or just leave plain. Enjoy!
Ingredients
500g frozen leaf spinach, thawed and squeezed of excess water
1 cup ricotta cheese
1 egg
Salt and freshly grated black pepper
Pinch nutmeg
2 sheets puff pastry, defrosted
1 egg, lightly beaten
Method
1. In a medium bowl mix ricotta, egg, defrosted spinach and nutmeg. Season with salt and pepper. Line a large baking tray with baking paper.
Ad. Article continues below.
2. On a lightly floured surface, roll out one pastry sheet. Using a pizza cutter, cut one sheet into 6 long rectangles. Transfer rectangles to the prepared baking tray. Use a pastry brush and brush rectangles with egg. Spoon 2-3 tablespoons of the ricotta-spinach mixture on one side of each rectangle. Fold the other side over the filling and line up the edges. Crimp the edges with a fork to seal shut.
3. Repeat with second puff pastry sheet until you have 12 parcels. Slice 2 slits in the tops for air vents. Brush the tops of parcels with egg. Chill parcels in fridge for 25 minutes. During the last few minutes of chill time, preheat the oven to 190C. Bake parcels for 30 minutes, or until tops are golden brown.
—————————————————–
If you'd like to see more recipes from Starts at 60, click here. And if you have a recipe you'd like to share with the Starts at 60 community – we'd love to share it! Submit them to us by completing the form below.
Submit your article here