Super-cheesy bacon cob loaf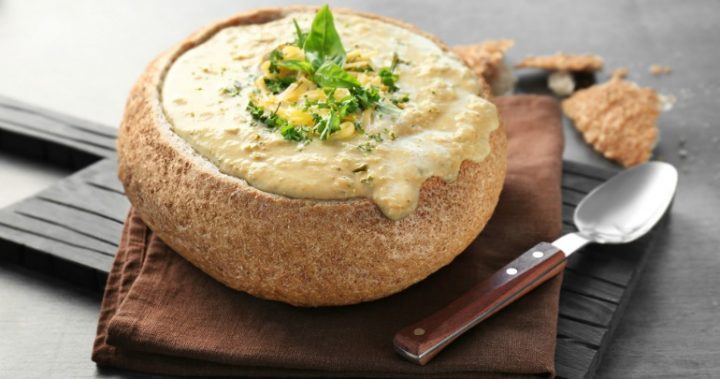 There is no better dish than the trusty cob loaf when it comes to entertaining your family and friends. This mouthwatering meal serves up a mixture of three different cheeses and a creamy bacon filling to create a delicious twist on the classic recipe.
The cheesy bacon cob loaf is the best for special events and is so easy to make that it will have your guests begging you for the recipe!
Ingredients
1 tablespoon olive oil
1 leek, thinly sliced
250g bacon, chopped
2 tablespoons plain flour
160ml (2/3 cup) milk
250g light cooking cream
1 corn cob, kernels removed
20g (1/4 cup) grated parmesan
80g (1 cup) grated pizza cheese
1 large cob loaf
110g triple cream brie, chopped
Extra crusty bread, to serve
Parsley to top
Method
Preheat oven to 180C or 160C fan-forced. In a medium heavy-based pan heat oil over medium heat. Add leek, stir for 2 mins. Add bacon, stir for 4-5 mins. Wait until leek is tender and bacon is only slightly coloured. Add flour, stir for 1 min.
Take pan off heat. Add milk, stir until smooth. Add cooking cream and bring back to heat. Cook for 3-4 mins, stirring constantly. Let mixture thicken and boil. Add corn, parmesan and half of grated cheese. Stir. Season with salt and pepper. Take pan off heat.
Take cob loaf and cut off top. Remove bread from inside and leave a shell 2-3cm thick. Cut two large pieces of foil and lay on a flat surface crossways then place baking paper over the top. Place cob loaf in centre. Pour bacon mixture into cob only half way. Sprinkle half of the brie into cob. Top it off with second half of the mixture and remaining brie. Sprinkle with grated cheese and put lid back on top.
Wrap foil and baking paper around cob and transfer to an oven tray. Bake for 40 mins until crisp and cooked through . Serve with parsley and crusty bread for dipping.