Simple jacket potato with tuna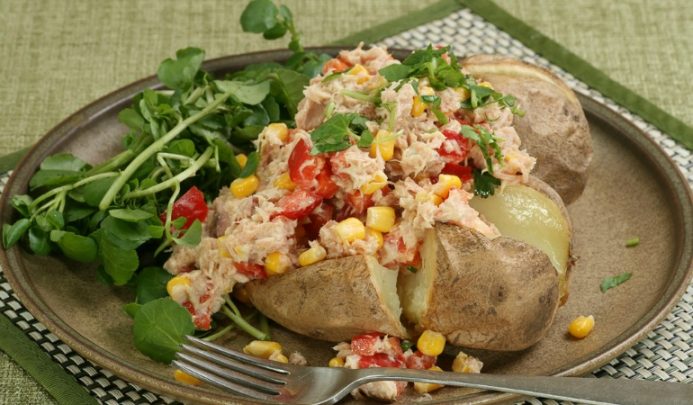 This savoury delight is best served hot out of the oven to really appreciate the new flavour bursting out of an old recipe. This quick and easy meal provides a fresh take on the delicious jacket potato by adding in tuna and replacing the sour cream with yoghurt for a healthier option.
This meal will fill you up without the heaviness of the original bacon and sour cream version. All you have to do is pair it with a side salad and you have a wholesome lunch or dinner.
Ingredients
4 large potatoes
2 tablespoons olive oil
370g canned tuna in olive oil
4 tablespoons Greek yoghurt
1/3 cup corn kernels, cooked
1/3 cup cheese, finely grated
1 onion, diced
1 tomato, diced
1 tablespoon parsley, chopped
1 pinch salt
1 pinch pepper
Method
Preheat oven to 200C. Pierce potatoes with a knife and cook in microwave for 14 mins turning them once at half time.
Put potatoes on a tray and lightly cover with olive oil and salt. Cook in oven for 10 mins or until as crispy as desired.
Mix together tuna, yoghurt, corn, yoghurt, salt and pepper in a small bowl.
Put potatoes on plates. Cross cut and pinch each one to air out.
Place cheese inside the slit and top with the mixture. Finish with parsley and onion on top and serve hot.