Mouthwatering lamb shank and vegetable soup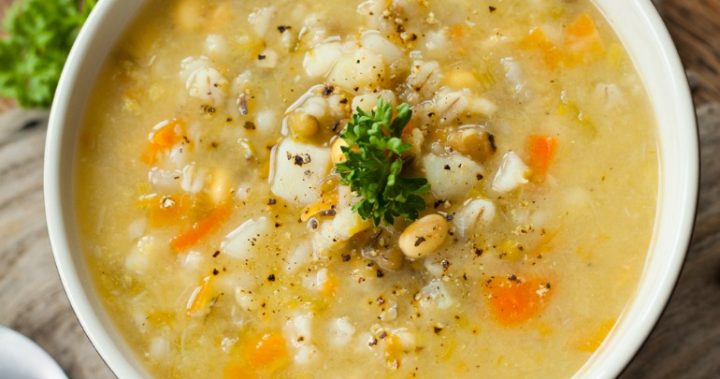 Lamb shanks, barley, and vegetable soup gives you the best of both worlds, given that it is both delicious and nutritious. It is so full of flavour from the tender shanks, and bulked up with plenty of veggies – what could be better?
Served with fresh, crusty bread on a cold winter's evening, this will be sure to warm you up and nourish your body and soul.
Ingredients
2 tablespoons olive oil
4 frenched lamb shanks, bone in
1 large onion, diced
2 large cloves garlic, minced
4 medium carrots, diced
3 medium leeks, diced
2 sticks celery, diced
2 parsnips, peeled, diced
1 litre stock; chicken or vegetable
1 litre water
½ cup pearl barley
Fresh bay leaf
Sprig of thyme
Salt and pepper
Fresh parsley, chopped
Method
In a large pot, heat oil and brown shanks on all sides before removing and setting aside.
On a low heat, cook onions, garlic, carrots, leek, celery, parsnip and thyme for 15 minutes or until tender.
Add water, stock, and lamb shanks and bring to the boil.
Add barley and bay leaf, cover, and reduce heat to a gentle simmer for two hours or until lamb falls easily from the bone. Remove shanks and shred meat with a fork. Discard bones and return meat to the pot. Simmer for a further 15 minutes.
Season with salt and pepper, sprinkle with parsley and serve with fresh, crusty bread.