Delicious roasted potatoes with pistachio and lemon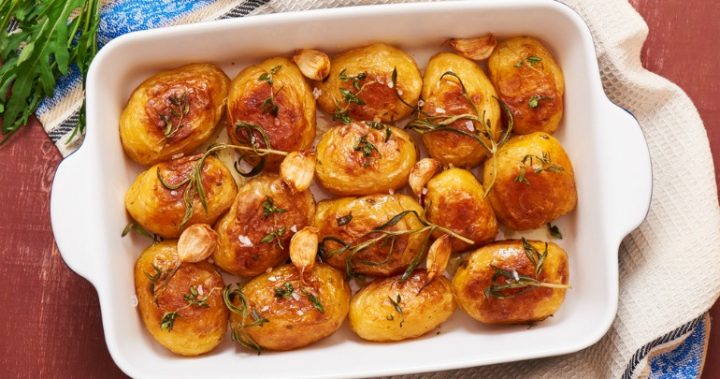 Potatoes make a delicious side dish for almost any meal and the best thing about them is they can be dressed in all kinds of different flavours to take the humble veggie from plain to mouthwatering. This tasty recipe adds lemon and pistachio for a burst of new flavour you won't forget anytime soon.
This crispy and delicious side dish is perfect with all kinds of meat or salad as the main. It's easy to make and will have everyone going back for seconds!
Ingredients
1.5kg baby cream delight potatoes

2 garlic cloves, unpeeled

1/4 cup lemon-infused extra virgin olive oil

1/4 cup pistachio kernels, roughly chopped

Fresh flat-leaf parsley leaves, to serve
Method
Preheat oven to 200C or 180C fan-forced. Line a small roasting pan with baking paper.
In a large saucepan of water over high heat, place potatoes and cover. Bring to boil and leave until potatoes are just under tender and their skin is just splitting, for about 5 mins. Drain water and transfer to the prepared pan. Add garlic and 2 tablespoons of oil and toss to mix. Season with salt and pepper.
Roast for 45 mins and turn at the halfway point, make sure they are golden and crispy. Add in pistachios and roast for another 5 mins.
Squeeze garlic from skins (be careful they will be hot). Throw out skins and chop garlic finely. Put into a small bowl along with remaining oil and whisk with a fork to combine. Pour over potatoes and toss. Top with parsley and serve.