Cheesy spinach and bacon quiche with healthy sweet potato crust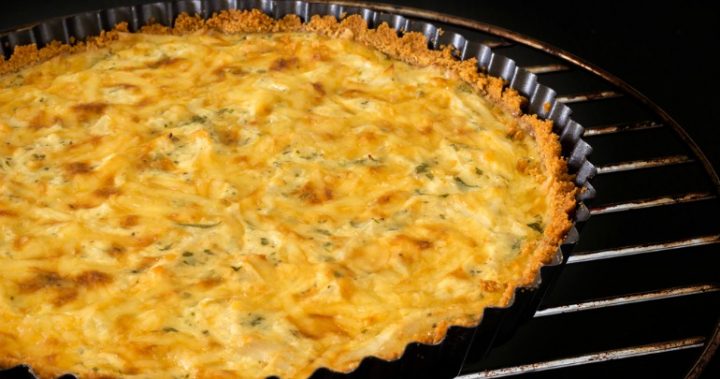 This delicious quiche offers a fresh twist on the traditional quiche with a pastry crust, instead using a healthy and yummy sweet potato crust.
Perfect for lunch or dinner, or if you have guests coming over. It's certain to impress!
You could change the filling to suit your tastes too – perhaps add some mushrooms, or your favourite veggies.
Ingredients
Sweet potato crust
3 1/2 cups sweet potato, peeled and grated
1 egg white
1 tablespoon plain flour
3/4 teaspoon salt
1/4 teaspoon fresh ground black pepper
Quiche Filling
4 slices of bacon
2 spring onions, thinly sliced
2 1/2 cups baby spinach
4 eggs
3 egg whites
3/4 cup milk
3/4 cup grated cheese
1/2 cup grated cheese (extra)
Salt and fresh ground black pepper to taste
Method
1. Preheat oven to 210C and spray a large quiche dish with cooking spray.
2. Place grated sweet potatoes in a large sieve and rinse well with water to remove some of the starch. Place onto paper towels or a clean tea towel and squeeze to remove excess water.
3. In a bowl, combine sweet potatoes with egg white, flour, salt, and pepper.
4. Press mixture firmly into the base and up the sides of the prepared dish, then bake for 20-25 minutes or until golden.
5. Remove dish and lower oven temperature to 190C.
6. For the quiche filling, cut bacon into bite-sized pieces and cook in frying pan over medium heat. Once crisp, place on a plate and drain onto paper towel.
7. Add spring onions to pan and cook until spinach is wilted, then remove to plate. Once cooled, squeeze any excess moisture out of the spinach.
8. In a large bowl, whisk together the bacon, spinach, spring onions, eggs, egg whites, milk, 3/4 cup grated cheese, and salt and pepper, then pour the mixture into the sweet potato crust.
9. Top with remaining cheese, and bake for 35-40 minutes or until filling is set and cheese is golden.
10. Allow to sit for 10 minutes before serving.