Family cheese, egg and bacon pie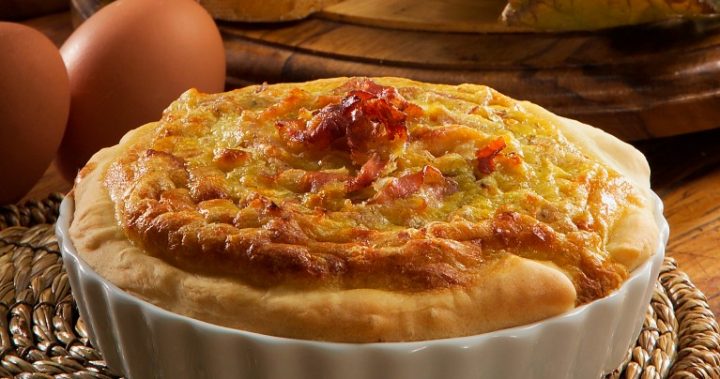 Nothing beats a classic pie to satisfy your savoury cravings.
It's safe to say we're all fans of an easy meal to take the pressure off in the kitchen and this classic cheese, egg and bacon pie is the perfect go-to dish.
This simple and delicious pie can be thrown together with ingredients you already have in the kitchen and can be enjoyed for either breakfast, lunch or dinner. The best part is, this is a dish the whole family will love.
Store leftovers in an airtight container in the fridge for up to three days.
Ingredients
375g frozen puff pastry, thawed
200g full-fat sour cream
180g grated vintage cheddar
1 egg
2 egg yolks
2 bacon rashers, chopped
3/4 cups spinach, washed, chopped
2 tsp fresh thyme leaves
Milk (to brush)
Method
Preheat oven to 200°C.
Grease a quiche dish with butter, then line with baking paper.
On lightly-floured surface, roll out pastry to fit your quiche dish, then press into dish.
In a bowl, mix together sour cream, cheese, egg and yolks, bacon, thyme and spinach, then season with salt and pepper.
Spread mixture over pastry, leaving 1cm gap at the top.
Bake in oven for 15 minutes (or until golden and puffy).
Serve with a fresh garden salad or enjoy on its own!