Blueberry and fruit tea jelly: the healthy dessert with endless variations!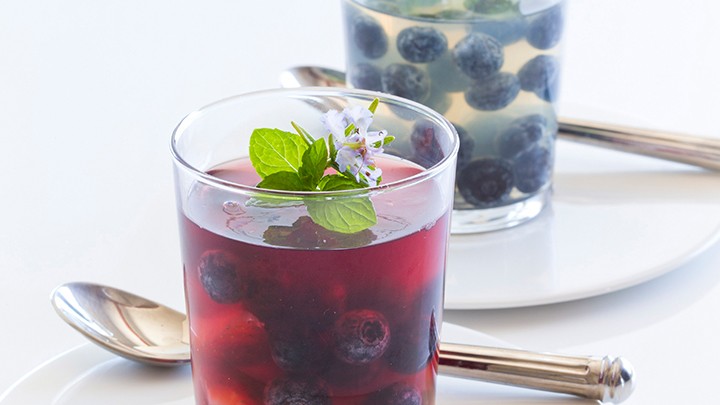 This fantastic sugar-free recipe is wonderfully easy to customise to your taste – simply choose a different tea flavour or fruit to shake things up.
Ingredients
2 caffeine-free herbal fruit tea bags of your choice
500ml boiling water
1-2 tablespoons sugar-free sweetener, to taste
3 tsp powdered gelatine
200g fresh blueberries
mint sprigs, to decorate
Instructions
Place tea bags in a heatproof jug (for this recipe we used rosehip) and pour in 375ml of the boiling water. Infuse for 10 minutes. Remove the tea bags. Add sweetener to the infused tea and stir to dissolve.
In a small bowl, place the remaining 125ml boiling water, sprinkle over gelatine and whisk until dissolved.
Add sweetened water to the infused tea and stir well. Cool to room temperature.
Divide berries into four 160ml serving glasses and add the room temperature jelly mixture. (The berries will rise to the top if the jelly is too warm.)
Refrigerate for 3 hours or until set. Decorate with mint sprigs before serving.
Ad. Article continues below.
Variation: Vegan Fruit Tea Jelly
Omit the gelatine and extra boiling water. Place 125ml cold water in a small saucepan. Stir in 1 teaspoon agar agar powder and stand for 5 minutes. Gently bring to the boil and simmer for 1 minute, stirring constantly. Proceed as per recipe.
This recipe was adapted from Sugar Free Baking by Carolyn Hartz. Click here to learn more about her new sugar-free cookbook.