Sponsored Content
Food and Drink
8 months ago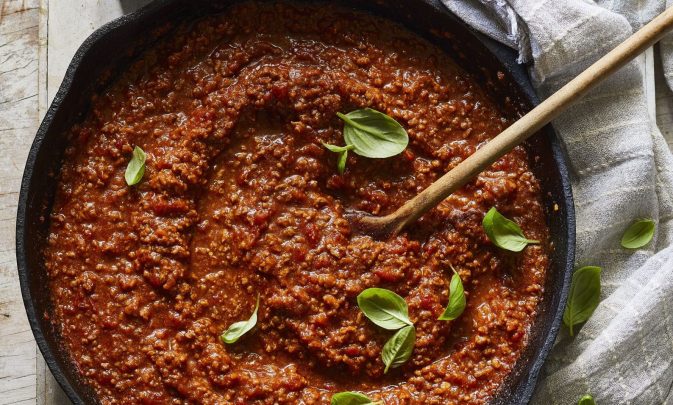 Beef Bolognaise is an incredibly versatile dish that can be used as a key ingredient in many different meals including beef cottage pie or our Mexican style beef bolognaise, smashed avocado and cheese toasted sandwich.
You can see how to use this versatile dish into 4 tasty meals in this video.
Ingredients
40ml Extra Virgin Olive Oil
110gm Spanish Onion – peel, halve & finely dice.
1 Garlic Clove – peel & finely chop.
20gm Semi Dried Tomato – drain & finely chop.
500gm Beef Mince
35ml Balsamic Vinegar
360gm Tinned Crushed Tomatoes
180ml Chicken Stock
70ml Tomato Sauce
To Taste – Ground Black Pepper
Method
Over a moderate heat, in a saucepan add the oil, onion and garlic and saute stirring regularly until the onion has softened, then add the semi-dried tomatoes and continue to saute for a further minute.
Add the beef mince and saute until it has broken up and is well browned.
Add the balsamic vinegar, crushed tomatoes, chicken stock, tomato sauce and thoroughly combine with the beef mince.
Bring the mixture up to the boil, then reduce the heat and allow to simmer gently for 45 minutes or until the beef is tender and the sauce has reduced and thickened to a consistency that coats the back of a spoon. Season to taste with ground black pepper and remove from the heat.
To serve
Serve the beef bolognaise as required, for instance with freshly cooked penne pasta or with as a filling in a freshly baked jacket potato topped with sour cream and sliced chives.