Whoops! Cadbury brings back old favourite chocolate - then recalls it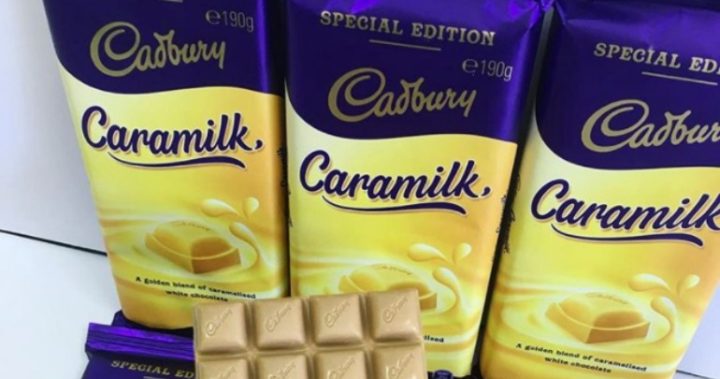 Cadbury's classic Caramilk chocolate bar is back on the shelves in Australia for the first time in more than 24 years, but the arrival of the sweet treat has taken a very unexpected turn for the worse.
The chocolate, which was first introduced 28 years ago in 1990, hasn't been available since it was scrapped in 1994. That was, until, the chocolate made a spectacular comeback last week.
The 'special edition' version of the chocolate, said to be an irresistible mix of white chocolate and caramel, was a roaring success when it was recently rolled out to the New Zealand market, so much so that the country sold out of the treat in less than three weeks. Cadbury followed up with an Aussie release last week, but in what must be a huge headache for the confectionery giant, things quickly went very wrong.
Who needs bitcoin when you can invest in Caramilk ???????? pic.twitter.com/kuGGCCU8gZ

— Jonno Simpson ???? (@JonnoSimpson) February 9, 2018
Ad. Article continues below.
$60 well spent. #caramilk #blackmarket pic.twitter.com/BXz1e9rpP8

— Ben May (@benjmay) February 13, 2018
Coles and Woolworths, the only two major retailers in Australia stocking the chocolate, completely sold out of the 150g blocks within a week. So far, so good for Cadbury – there's nothing like a limited supply to fuel demand.
The bars were selling for around $5 each in the supermarkets, with many fans stockpiling the treat so they could have their chocolate fix. More capitalist-minded types, however, took to reselling the chocolate at ridiculously inflated prices online, attempting to cash in on curiosity surrounding the treat.
Some people were selling blocks of the chocolate on eBay for $150, with others joking that the chocolate was worth more than crypto-currency Bitcoin. Some sellers took things even further by auctioning off individual squares of the chocolate for $10 a square, according to Daily Mail. So far, even better for Cadbury's marketing machine. 
Ad. Article continues below.
Forget bitcoin #caramilk
proving to be a wise investment
???????? pic.twitter.com/1xMYigFt2l

— Sarah Czarnuch (@sarah_czarnuch) February 5, 2018
But today, things took a decided turn for the worse. Taking to Facebook on Thursday afternoon, the official Cadbury Facebook page issued a recall of 190g bars with a best before date of 17/01/2019 and 21/01/2019, because the bars have bits of plastic in them!
"A limited number of Cadbury Caramilk products have been found to contain small, flexible pieces of good grade plastic as a result of a machinery fault during the manufacturing process," the message read. "Cadbury Caramilk products containing plastic may cause minor injury if consumed. Our analysis of the samples received to date has determined that this product does not appear to pose a serious or food safety risk, but a recall has been initiated to prevent the risk of minor injury."
Ad. Article continues below.
Cadbury suggested that anyone who has a block of the chocolate should not consume it, but rather return it to their place of purchase for a full refund.
We somehow don't think those sellers on eBay will be willing to give back the money people paid for the treat. Cadbury are yet to make an announcement regarding the future of the chocolate in Australia  – and it's not clear how interested fans may be if they're had to pay $150 for a bar or bought a bar with chewy plastic in it –  but have promised fans that they will be revealing exciting information soon.
What do you think? What's the most you've ever paid for chocolate?
---
With Facebook removing news sites from your feeds we ask that you sign up for Starts at 60's emailers here. And to keep us on your wall, join some of our new Facebook groups and clubs:

News Junkies Club – Australia
News Junkies Club – USA 

See news on the change and links to all our other clubs and groups here.