Impress the grandkids! These are Netflix shows everyone's talking about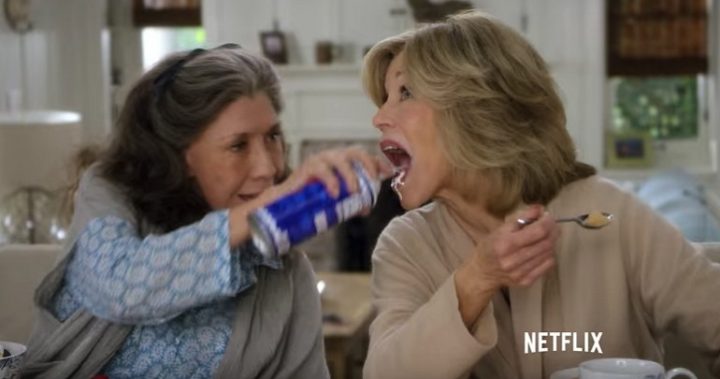 With the birth of online streaming and greater access to more TV shows, you may have noticed your kids or grandkids getting hooked on new series and movies you've never heard of. Or maybe you're seeing plenty of talk about them on social media but haven't yet explored what's out there.
Whether the whole family get caught up in a discussion on a new comedy or action drama over the dinner table, or your friends can't stop talking about a new romance series on Netflix, there's no reason for you to be left out. You may just find you love them too!
From Jane Fonda and Lily Tomlin starring in Grace and Frankie, to breakthrough artists taking the world by storm in Stranger Things, there is something for everyone.
Read more: A simple guide to using Netflix for your favourite TV shows and movies
We've taken a look at some of the top shows to give you a sneak peek at each. Go on, impress the family with you knowledge at the next family gathering!
Ad. Article continues below.
Grace and Frankie
The American comedy-drama stars Jane Fonda and Lily Tomlin, whose characters form an unlikely friendship when their husbands both announce they're in love and want to marry each other. Telling their wives at a joint dinner, the news gets the response you may expect. From there, each interaction has the necessary amount of comedy to make the whole show a success.
From the women struggling to adapt to being single in a modern world, to the men revealing the news they're now gay to their friends and family, the show tackles some big social issues in a hilarious manner. While it got mixed reviews when it first aired in 2015, it has grown hugely in popularity in subsequent series so it's worth sticking at it.
House of Cards
Ad. Article continues below.
This fast-paced political drama has gained millions of fans across the world. The first few series star actor Kevin Spacey as Congressman Frank Underwood, alongside his wife Claire Underwood, played by Robin Wright. They plan an elaborate revenge plot on a number of people who they believe have betrayed them, including cabinet members and the US President himself.
The tense drama follows not only modern politics – with a behind-the-scenes glimpse at what goes on behind closed doors in the corridors of power – but also the difficult relationship between the two lead characters, crossing the boundaries between business and all-out revenge.
This show has been in the headlines recently in particularly after Spacey was accused of sexual assault, which meant that he and Wright were replaced by Diane Lane and Greg Kinnear for the final season.
Stranger Things
Ad. Article continues below.
Possibly one of the most successful series on Netflix to date is Stranger Things. It follows the lives of a group of youngsters after one of their friends goes missing. It soon becomes clear there are super natural powers at work, and the emotional family drama takes a dark turn.
While sci-fi shows or thrillers may not appeal to you, your grandkids will likely be raving about the new TV show – so a look at this official trailer gives a great teaser of what it's all about.
Younger character Will goes missing without a trace in the first series, and his close friends and desperate mum immediately spark a search for him. The key characters slowly notice clues that he could still be alive, just caught in an alternate world. With the arrival of a mystery young girl who struggles to understand basic words and can't remember key parts of her childhood, it's clear she holds the key to the whole mystery – especially when she reveals she has super-natural powers. 
Actress Millie Bobby Brown plays Eleven, and has since earned a Primetime Emmy Award nomination for Outstanding Supporting Actress in a Drama Series at the tender age 13 for the role.
Ad. Article continues below.
Orange is the New Black
Based on a true story, this jail drama follows the life of Piper Kerman and her time in a minimum-security federal prison. She is sentenced to 15 months behind bars for transporting a suitcase full of drug money for her ex-girlfriend Alex Vause, played by actress Laura Prepon.
While in prison, she comes face to face with her ex-girlfriend once again, who is also locked up, and it eventually sabotages her relationship with her male fiance on the outside, as well as her bond with her parents and family. With violent, sexual and explicit scenes, it's one to be cautious of watching with younger relatives – but if you have older grandchildren who are enjoying it, there's no reason not to join in the fun!
It's become Netflix' most-watched original series (a series that Netflix itself made, rather than one it purchased from a TV network or film studio), with many fans praising its unflinching portrayal of life behind bars.
Ad. Article continues below.
Black Mirror
Perhaps one of the most controversial series on the streaming service, Black Mirror is a British science fiction anthology TV series with individual stand-alone episodes. Each one tells a completely new, short story.
It examines the changes in the modern world in particular, and the effects new technologies could have on society. Each episode is extreme, and shows shocking results of modernisation, often set in the future or an alternate present. While some episodes take a very dark turn, others are lighter and show a more comical view on reality.
If you're keen to impress fans of the show, some of the most popular episodes so far include 'The National Anthem', 'Be Right Back', 'White Christmas' and 'San Junipero'.
Ad. Article continues below.
'The National Anthem' is the first episode and was aired on mainstream TV when it was first released. It follows a fictional British prime minister who wakes up to be told that a princess, a much-loved member of the foyal family, has been kidnapped. He must take part in a horrific and disgusting act with a pig, live on TV, for her to be released safely. Yes, really!
Outlander
The moving drama is based on the historical time travel Outlander series of novels by Diana Gabaldon. It follows actress Caitriona Balfe as Claire Randall, a married World War II nurse who is sent back in time from her honeymoon in 1945 to Scotland in 1743.
Once there, she is forced to battle it out alongside Highland warrior Jamie Fraser, played by Sam Heughan, as she is embroiled in the Jacobite risings. If you're a fan of period dramas, this has a modern twist and could be perfect for your watch list. See the trailer above to get a hint at what's in store in the first series.
Ad. Article continues below.
Suits
This American legal drama has hit the headlines thanks to actress Meghan Markle's engagement to Prince Harry.
She stars alongside Patrick J. Adams, who plays talented college dropout Mike Ross, who begins work as a law associate for Harvey Specter, played by Gabriel Macht, despite never actually having attended law school.
It has been nominated for several awards since 2012, and it was recently renewed for an eighth season without series regulars Adams or Markle. While the show itself is a gripping drama, giving fans a look at life behind the fast-paced world of law in New York, it also gives royal fans a glimpse at Prince Harry's future wife at work.
Ad. Article continues below.
Do you watch Netflix? What are your favourite shows to watch?
---
With Facebook removing news sites from your feeds we ask that you sign up for Starts at 60's emailers here. And to keep us on your wall, join some of our new Facebook groups and clubs:

News Junkies Club – Australia
News Junkies Club – USA 

See news on the change and links to all our other clubs and groups here.