A tearful goodbye to Downton Abbey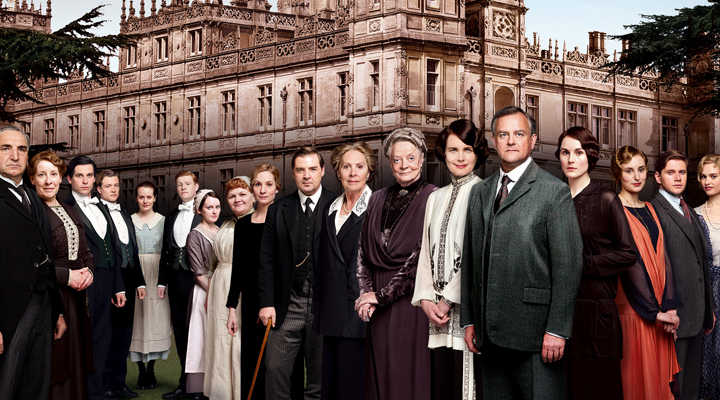 All good things must come to an end. But it doesn't seem like the cast of Downton Abbey were quite ready to say their goodbyes.
The enormously popular show has just finished filming after six years. How did it feel? Jim Carter, who plays – ahem, sorry, played – Carson the butler, shared the experience with the BBC.
"I thought 'I've done 200 jobs, they finish you go onto the next one', so I'm not going to get sentimental about the job finishing.
"It came to an end and they said 'that's it for the servants thank you very much' and I thought someone should say something to the crew.
"I looked up and saw all their knackered faces and they work so hard and I thought 'oh my I'm really going to miss them' and I went…I filled up completely and hopelessly".
Ad. Article continues below.
Carter described Phyllis Logan (Mrs. Hughes) was "on the floor sobbing". Lesley Nichol (Mrs. Patmore) and Sophie McShera (Daisy) were tearing up with her.
"I turned round and Lee the rigger, a great big guy who carries scaffolding around for a living had tears pouring down, Duncan the sound guy, Bobby the grip were all crying".
Meanwhile, Michelle Dockery and Laura Carmichael – Lady Mary and Lady Edith – are taking a girls' holiday together.
However, the cast won't have much time for holidays. Since the show's popularity skyrocketed, the cast are now in huge demand.
The BBC reports that Joanne Froggat (Anna Bates) will only get to enjoy a single weekend off before moving on to her next role. However, she'd be all too happy to return to her breakout role.
Ad. Article continues below.
"There was a Downton-themed cruise a few years ago – I don't know if it was an official one but we'll be like 'we just want to hang out together again we'll do a cruise'".
"It's just been like a fairytale. But we are a true ensemble"
Sophie McShera, who played Daisy the kitchen maid, says her "telly mummy" Lesley Nichol (Mrs. Patmore) is very proud.
Hugh Bonneville, the Earl of Grantham himself, will be enjoying his broadened career prospects.
"I'm going to try not to do something pre-war for 18 months so I can get away from these stiff collars and the rash they bring".
Ad. Article continues below.
"I'm not going to miss our lovely sound man Duncan grappling with my chest hair every morning with his microphone. I'm not going to miss his hand up my shirt".
His on-screen wife Elizabeth McGovern, who plays Cora, will be trying something very different: recording an album with her band "Sadie and the Hotheads
And Dame Maggie Smith? "I'm going to be lying down", she said. "I believe for quite some time".
"The other thing I will be doing is watching it. I will get the box set and have a good look… I certainly haven't watched anything that I've done. I have seen some of it, but I want to sit down and look at it all".
Are you looking forward to the final season of Downton Abbey this September? Are you ready to say goodbye?