Helen Mirren meets her three wax figures and checks out her own assets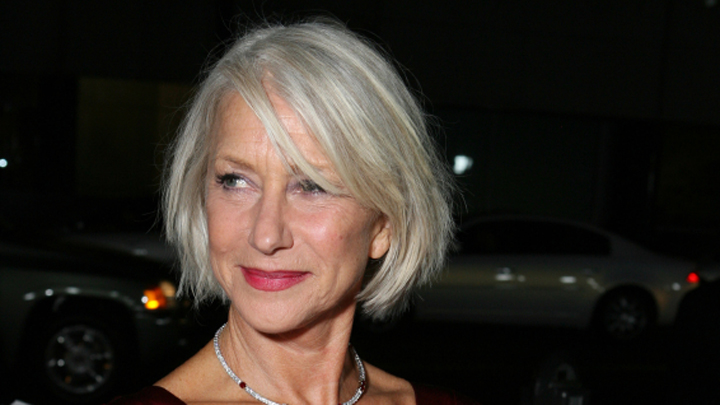 Imagine if you had a wax figure of yourself, wouldn't you want to make sure the proportions were right? That's what Helen Mirren did this week when she went to visit Madame Tussauds in London.
Our favourite 70-year-old star came face-to-face with not one but three waxworks of herself, and playfully posed with the Queen, Prime Suspect detective Jane Tennison and a red carpet version.
Helen cheekily peeped at the cleavage of her double, all three of which were erected especially for the Dame's 70th birthday this week.
Dame Helen unveiled her 'red carpet figure' in London in 2010 but had never been close up with the two other figures from Madame Tussauds Blackpool and Berlin before.
When she met her doppelgängers, Helen gushed, "This is amazing, I feel like my husband looking at me! It's like having three sisters, I love it".
Ad. Article continues below.
She said the 'red carpet' figure was her favourite because "it's very me, I look happy".
And she's clearly not camera shy, there were plenty of snaps taken of Ms Mirren in playful positions, showing her mischievous side.
When asked about her other two figures "The Queen outfit is very like my costume" and "Look at the eyes of Jane Tennison, very fierce, it's excellent".
She said she wants to pose with (Twilight star) Robert Pattinson, George [Clooney] of course and Johnny Depp too.
Surprisingly, Helen is a fan of Kim Kardashian, saying "Look, Kim doing a selfie! She's great, and what a fabulous [Balmain] dress".
Ad. Article continues below.
It's no surprise then that Edward Fuller, General Manager at Madame Tussauds London, told Daily Mail that Dame Helen's figure has been one of the most popular since it was first launched.
"We wanted to do something special to celebrate her birthday on 26 July so we decided to give visitors the chance to 'meet' her in three of her most famous guises".
Take a look at the photos below and tell us, would you like to see these wax figures in real life? Or have you? 
Ad. Article continues below.