Andie MacDowell reveals her timeless beauty secrets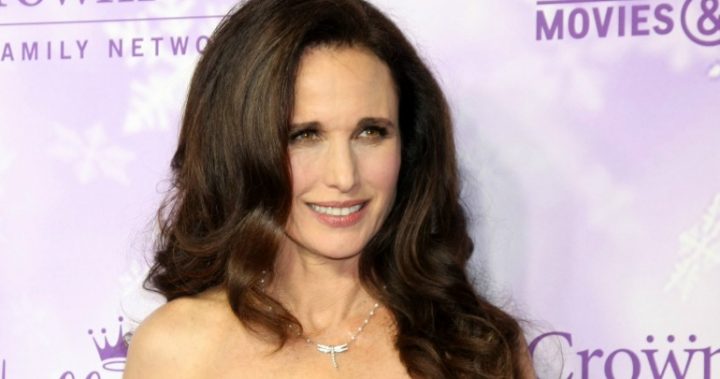 Andie MacDowell has been called a timeless beauty. But it is not all down to good luck. The 59-year-old fashion model and Four Weddings and a Funeral and Groundhog Day star prefers to use the natural approach and is a big believer in natural eating.
Speaking to W Magazine the former Vogue model says she juices fresh vegetables every day and was growing her own wheatgrass 30 years ago, long before it became 'trendy.' "I only eat real food, and avoid man-made packaged food," Andie MacDowell says. "Anything that grows out of the ground I eat. I do eat meat and chicken, but never with any added hormones, that's a huge no-no! I eat wild fish, healthy fish. I love all beans and I make one heck of a Dal. I love cheese but I eat it in moderation. I eat a lot of nuts. I study food and understand how it works in your body." Describing her favourite juice combo as kale, dandelion, apple, ginger & lemon she also loves to drink water with a bit a lemon or kumquats from her trees. 
Exercise is another way MacDowell keeps in shape but she said she preferred hiking and yoga to the gym. "I do go to the gym because I can push myself hard and get a fast sweat, but hiking does more for you than just exercise–your cortisol levels are balanced by walking in nature. Yoga can be extremely athletic and I do advance yoga, so my body really gets a strong workout, but that's not the only reason I do it. Yoga balances your hormones, calms your nervous system and can change your perspective on life in a positive way. Yoga makes you less stressful and when you're less stressed you look more beautiful, it shows on your face. Hiking and yoga make you much more beautiful person."
Ad. Article continues below.
When it comes to her beauty routine, she also offers a few tips. While she feels her most beautiful after a great massage, she is also a big believer in moisturiser and sunscreen.  But her biggest belief if that age doesn't matter when it comes to beauty. "The beauty myth that I'd like to debunk is that you must be young to be beautiful, age isn't a detriment and we don't need to chase youth, we should all embrace every moment of our life."
While coconut oil is her go-to therapy for her face, hands and hair on a long flight, she also passed on the tips of her hair colourist, who told her to use a moisturising mask or balm on her dry hair at least once a week.  If you are into aromatherapy, try her favourite. "I'm obsessed with one called 'peace'."
Ad. Article continues below.
In her latest movie role in the movie Love after Love she plays a widow coping with loss. It is a role that offered her a rare chance to play a complex character, and also required her to appear in various states of undress. Admitting to Hollywood Reporter she was not one to take her clothes off in a movie, because she was always conscious of what her three children would think, but now her children are older she said for this one she felt liberated enough to do it. "And after all of that worrying about taking my clothes off, it didn't even affect me in the least, seeing myself naked. What affected me more was to see how sad I looked. The only reason I could do that is because I know that sadness. That to me made me feel more vulnerable that being naked. It had no effect on me, being naked, which is fascinating."
On Instagram she describes herself as an actress, philanthropist, mother of three amazing kids and an animal lover. She has even taken to Twitter to share her thoughts on fame and her looks. "My body is my shell for my soul, what I want people to see is much deeper than my looks, I want to share my heart," she said in one post. "We live in a world where people think fame is desirable, fame is a burden, what makes you famous is the good energy, the art matters."
What do you think of her beauty tips? Do follow her advice already?