The loving family duty that took Penny Cook from our screens
For Penny Cook, starring in A Country Practice was like being part of a big family. Speaking to Starts at 60, Cook said she soon discovered the cast from Wandin Valley was like a family to all of Australia too, a much-loved family.
"It was a fascinating time," Cook said. "When it hit us, how big the show was, it was in Brisbane. We came up to do something in the park and we were just absolutely mobbed. It was quite extraordinary."
Even just listing the names of her co-stars brings back memories of the characters; Brian Wenzel, Grant Dodwell, Lorrae Desmond, Anne Tenney, Shane Withington, Joan Sydney, Shane Porteous, Joyce Jacobs, Sid Heylen and Gordon Piper, just to name a few.
"I'm sure we got a bit big for our boots, but we stayed pretty centred because of the older members of the cast, who were just magical. They kept us in line because we could have easily become spoilt brats. As it turned out we were a pretty damn fine team, as a cast, crew, producers. We all got on. "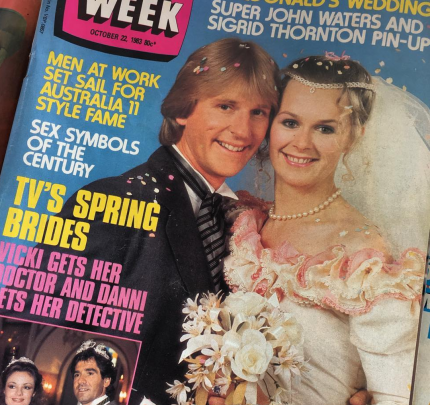 Cook said she soon realised her position as a role model to her fans.
"In TV you are in their house. In A Country Practice you were in their homes two nights a week. You might as well have been family. Just a simple thing of talking to a kid who adores your character can make them feel really happy."
Read more: A Country Practice Returns.
Ad. Article continues below.
Even before A Country Practice, Cook was in The Restless Years, which gave her a great grounding in the industry.
"Ron Haddrick played my father and June Salter was sort of a mother figures, also two of the most professional people you could come across," she recalled.  "Their stories, their professionalism, their joy of the industry. They taught me don't always be so serious. It's a job but enjoy it, don't agonise over it." 
Cook said she still gets called Vicky.
"It's a badge of honour. I can't understand how on earth they'd recognise me because I look far different, but the voice is the same," she explained. "It is fun when they come up and say how much they loved the show, because we loved it too."
Ad. Article continues below.
The actress turned 60 this week and has seen a few changes in the industry, not to mention the roles she plays. With roles in E Street, The Great Outdoors, Young Lions and Neighbours, not to mention many roles on the theatre stage, she's played a variety of characters, and worked with many stars.
"Ron [Haddrick] played my father twice and only a few years ago played my husband. How bizarre is that?" 
She next features in Pulse, a medical drama that will screen on the ABC from July 20. The show is inspired by a true story of a transplant patient who became a doctor, and is set in a teaching hospital. It's her first major role in television for a number of years, but for good reason.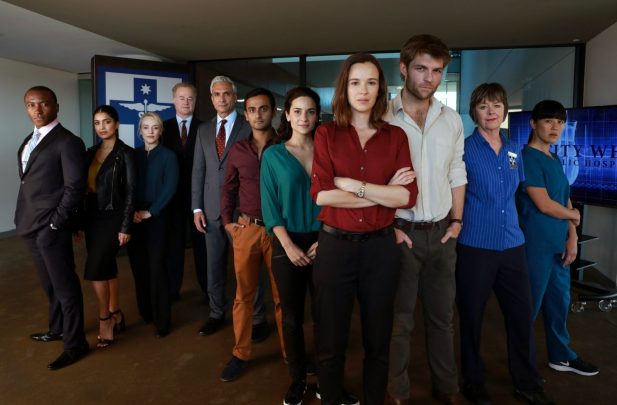 Cook admitted her acting career was put on hold for a while due to personal commitments; her daughter was doing her senior year in high school and Cook was caring for her own mother. 
The TV star explained that her stepmother needed to go into care in her later years because she had Alzheimer's Disease, but Cook's mother was able to care for until she herself decided to go into nursing home. As Cook's said a friend told her, "you are worrying about trying to find the right daycare place, then you worry about finding the right school, who on earth thought you'd worry about finding the right retirement home".
It was the right decision for her mother, Cook said, describing how her mum even found a former school friend at the same home after she moved in to.
Ad. Article continues below.
"She was just thriving. I still helped out with the care, but it took a lot of the 24-hour-pressure off," she recalled.
During this break from acting, she started doing voiceover and Master of Ceremonies work, something she discovered she really enjoyed. "To be an MC at a conference is fascinating, you learn so much," she said.
She's also found something else that she enjoys doing for fun and for relaxation: making jam. The actress was in middle of making a batch of strawberry jam while talking to Starts at 60.  
"Strawberries were on special so the next hour will be spent stirring," she laughed. "Because you are just stirring, you can't think if anything else. It stops your mind working overtime."
Were you a fan of A Country Practice? What do you remember Penny Cook from the most?