"This photograph was taken on holiday with the family by The Duchess of Cambridge. Thank you everyone for all your lovely messages!"
Meanwhile more photos show the young prince laughing as he lies back on a grassy lawn at Kensington Palace, wearing his white football shirt and revealing an adorable gap in his bottom teeth.
Another snap, taken on the same day, then shows him stood up and smiling happily into the lens.
The family have released official photos on every one of George's birthdays so far and the Duke and Duchess of Cambridge truly kicked things off in style for their son's first birthday, as they released a series of photos from a fun photoshoot during a visit to the Natural History museum's butterfly exhibit.
George was seen running around on his own dressed in striped dungarees and little shoes, before pointing up at the butterflies above him.
More photos showed him cuddling up to his proud parents as they beamed in the candid snaps, all taking in the colourful insects around them.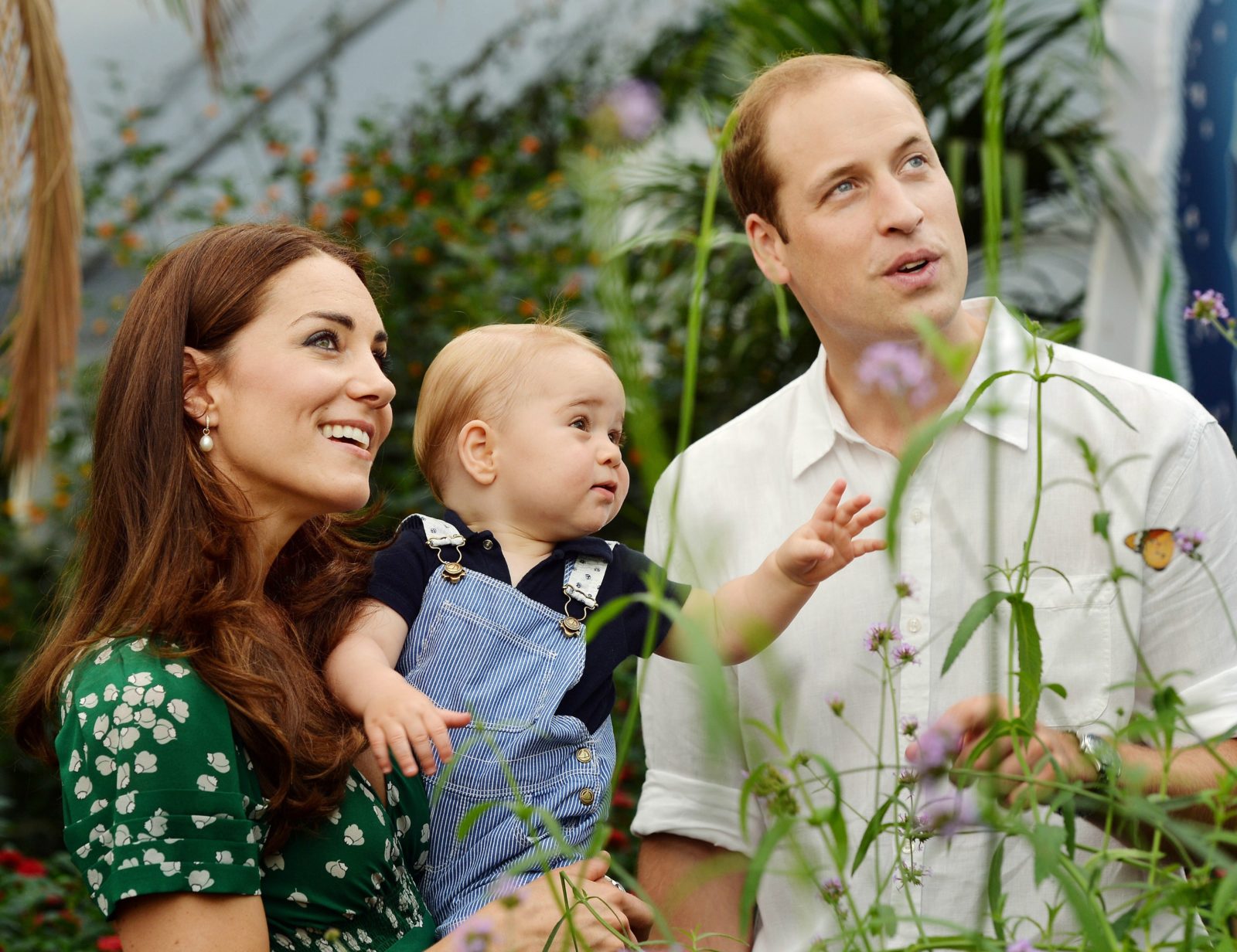 Meanwhile, just a year later, Kensington Palace released a beautiful photo of a cheeky George smiling in his father's arms, as he leaned into the camera for the perfect shot.
Wearing small red shorts and a white top, he appeared a complete natural in the snap as they stood together outside their home. To celebrate the big day, the Grenadier Guards also stopped their usual routine to play 'Happy Birthday' in the young prince's honour.
For George's third birthday, William and Catherine really treated royal fans as they once again released a series of photos from a photoshoot – this time showing a glimpse of their life behind closed doors.
The snaps, taken at the family's home at Amner Hall, in Norfolk, showed George playing with their dog Lupo on a picnic blanket while feeding him some of his own ice cream, apparently oblivious to what's going on around him.
And scaling things back and releasing just one special photo on his fourth birthday, parents William and Catherine shared a portrait of George beaming straight at the camera dressed in a striped shirt – looking incredibly grown up compared to his previous snaps.
The official picture was taken at Kensington Palace in London, where the family live, by royal photographer Chris Jackson.
For his most recent birthday last year, Prince George was pictured in another smiling portrait – this time in the garden of Clarence House in London.
He was seen laughing up at the camera with his hands behind his back, wearing some navy shorts and a white shirt.
Do you have a message for Prince George?