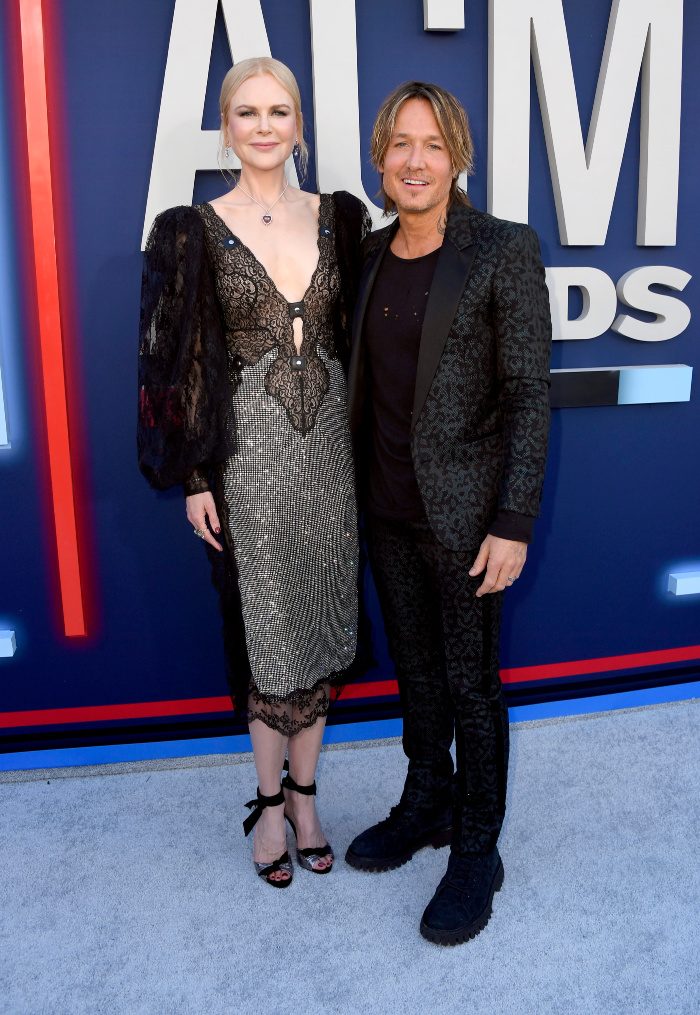 Meanwhile Keith, 51, chose a creative dark green and black patterned suit, which he paired with a loose-fitting black top and lace-up shoes.
The talented performer won the top prize for the night – the Entertainer of the Year Award – an award he had been up for eight times before, but unfortunately never won. He was also in the running to receive the Male Artist of the Year award.
Taking to Twitter following the announcement, Keith and Nicole thanked the country music industry for their support over the years and the great honour in receiving the accolade in a sweet video.
"Thank so much ACM for this, all the fans, country radio, all the country platforms," Keith said.
Nicole then jumped in adding: "Country music you've been so great to my husband, we are so grateful, we love you so much."
Earlier in the evening the couple also took to social media to share adorable photos of themselves looking very much in love.
In a post shared on Instagram, Destroyer star Nicole praised her husband for his amazing talent and incredible singing voice.
"Just listened to his song Burden at the #ACMAwards… looooooooove [sic]," she wrote alongside a sweet snap of herself kissing her beloved husband on the cheek.
Meanwhile Keith uploaded a gorgeous image of the two staring into each other's eyes as if no one else existed. He captioned the post: "Date night at the ACMS!"
The posts have since received plenty of loving comments from fans who commended the couple on their beautiful relationship.
"Aww my heart, you guys are gorgeous," one person wrote. "Omg, you and Keith are so blessed. Such a beautiful couple. Love you guys," another commented.
While a third added: "You two are perfect."
Are you a fan of Nicole Kidman and Keith Urban? What do you think of their outfit choices?