Meanwhile, it comes a day after the actress stepped out at an awards bash in Los Angeles on Friday. Dressed in black from head to toe, the 60-year-old actress made a bold statement in an unusual black frock, which featured a flowing skirt over a pair of cigarette trousers, not to mention a bodice with a very daring plunging neckline.
The Halloween star looked incredible as she posed on the red carpet at the star-studded event and Jamie completed the look with a cute black cropped cardigan and a pair of pointed stiletto shoes. She wore her signature silver hair in its usual cropped style and slipped on a pair of black sunglasses.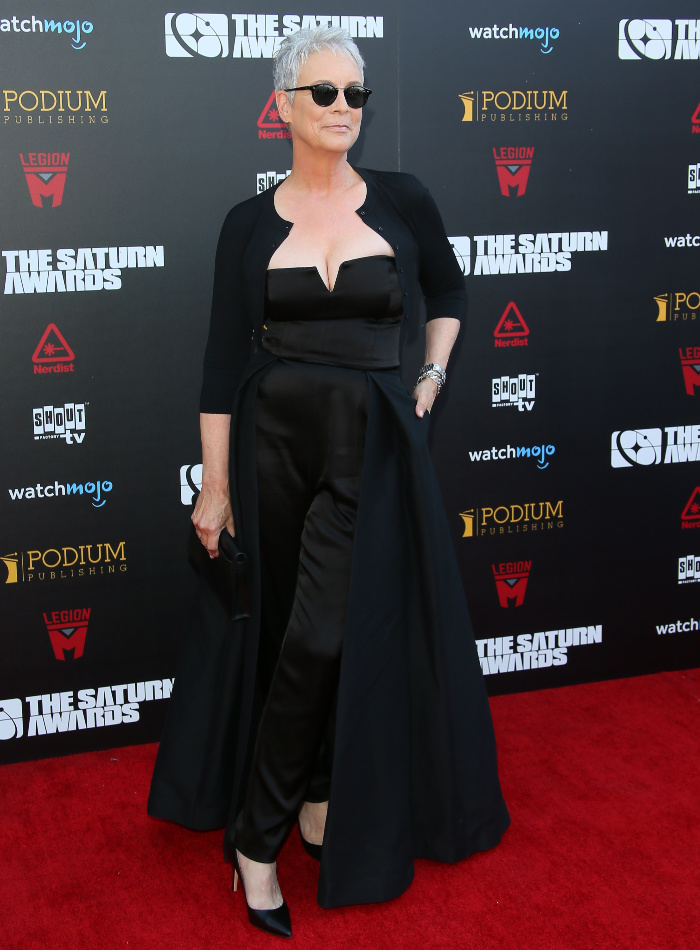 Curtis, who is the daughter of Tony Curtis and Psycho star Janet Leigh, didn't walk away empty handed either as she was bagged the Best Actress gong for her role in the 2018 Halloween reboot. Jamie has starred in a total of five Halloween movies, including the iconic 1978 original.
Following the Saturn Awards – also known as the Academy of Science Fiction, Fantasy & Horror Film Awards- Curtis took to Twitter to thank her fans for their support, before revealing how she landed the role of Laurie Strode in the horror franchise.
"I never thought I'd be an actress," she wrote. "I was in college & came home at Christmas and went to my friend's house where her tennis teacher, Chuck Binder, told me he was now managing actresses and that they were looking for Nancy Drew. for a TV series."
She added: "He asked me if I wanted to audition for it and I said sure. That led to a seven-year contract at Universal Studios, my quitting college and after getting fired from a TV series, Chuck submitted me for the role that changed my life, Laurie Strode."
Jamie's appearance on the red carpet comes just months after she delighted fans with a series of stunning photos from her daughter Annie Guest's wedding day back in July.
The Hollywood icon, who will turn 61 in November, looked incredible in a full-length silk polka dot dress as she celebrated the nuptials at her house in California. Posing alongside her beautiful daughter Annie Guest, the 60-year-old actress looked incredible in the chic gown which featured a front leg split and cinched in at the waist with a chunky black belt.