He said he eventually confronted his mum about the claim at the time, who told him she'd had an affair with his school friend's father previously.
The program followed David – who previously starred alongside Noni on City Homicide – as he underwent a DNA test and finally found out who his father was, but sadly the man did not want to make contact with him in the end – something an emotional David insisted he completely understood.
Asked if she was expecting to see her friend in so much pain during filming, Noni told Starts at 60: "I don't think he was expecting that. Again, David has a persona which he presents which is a kind of tough, resilient fellow, as many men do, and to see a man being vulnerable and raw is very affecting.
"Good on David for having the courage to do that because he's absolutely been deeply human and authentic."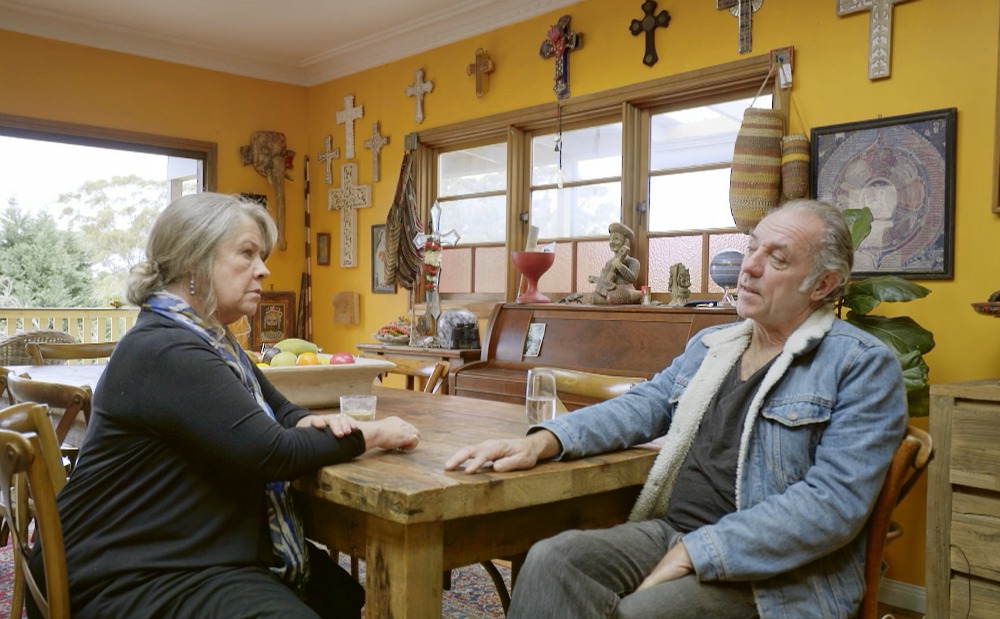 Noni has experienced a similar shock in her own life, after previously revealing how her mother told her shortly before she died that she'd been bottling up grief for years after surviving the Second World War and suffering PTSD. It ultimately meant they never shared an open and close relationship like Noni would have liked.
The TV star managed to better understand her mother's motives to keep her suffering secret after she appeared on SBS show Who Do You Think You Are? last year, but admitted she still felt frustrated that she hadn't been able to share her suffering sooner with her daughter.
"Ultimately I felt incredibly frustrated that we hadn't had the chance to – through [her] choice to keep things secret – to have an authentic, deep relationship. It was kept from me and I regret that," she said.
"But you have to respect people's rights. But ultimately I think what drives that is guilt or shame or fear, and that's not necessarily a healthy way to live."
Both of the actress' parents hid their experiences in the war from her, very rarely speaking of them at home at all.
"I always thought they didn't talk about their experiences because they were so traumatic, but what I didn't realise, and what was confirmed to me with my own father, was they were told not to tell anybody at home, that they didn't need to bother anyone at home with the terrible details," she revealed.
"So it makes you question with PTSD, was it the experiences or was it the suppression of those experiences that creates such trauma for people. A combination of both I guess."
Asked if she'd urge people to be more open in their life – and not leave it until their deathbed to reveal all – she said: "Kids need to know you as a human being, warts and all, and there's no such thing as perfection.
"Whatever drives you to feel that you need to hide behind a mask or a story, whether it's guilt or shame or whatever… the wonderful thing about the program for the subjects is they're freed, they're freed not only from whatever it was that blighted their lives, but also that they felt some guilt perhaps by association or some embarrassment or shame, and so they're able to see the human being that was the parent affected by things that had nothing to do with them as a child.
"Obviously in some cases you won't ever tell your child something that happened to you, but you often hear about these deathbed confessions where people have been carrying things for so long, and it all just comes blurting out at the end when there's no way of dealing with it or resolving it, there's no way of coming to peace with it.
"So I hope this program helps people to communicate better."
Read more: Noni Hazlehurst reveals mum's heartbreaking deathbed fear after PTSD battle
It has meant Noni has been determined to share a very open and honest relationship with her own sons – something she still shares with them now.
"They probably say it's too much information, but they know me, at least they know who I am," she insisted.
"It does engender a level of trust, they know me as a real person, not just silly old mum! While I am silly old mum in some occasions, at least they have some sense of who I am and why I am the way I am. Not an excuse, but as a way of understanding where I've come from, because we are all the sum of our experiences and environments."
Every Family Has A Secret airs on Tuesday nights on SBS at 7.30pm
Has one of your loved ones revealed any secrets on their deathbed? Do you think people need to be more open before it gets to that stage?