Recalling the lead up to the devastating events, the couple describe how they said goodbye to their three children in Amsterdam, as they flew back home to Perth two days early with their grandad Nick to start their school term. Rin and Maz were due to fly back two days later, having stayed back to sort some matters in the Netherlands.
Later that day they recall sitting together and feeling happy and thankful for the holiday they'd all shared together, before finally going to sleep in the evening.
However, Maz recalls waking up in the night to see his phone ringing and a stream of missed calls.
"Tell me your kids weren't on that plane, tell me your kids weren't on that plane," he remembers his assistant saying to him over the phone. When he asked what she meant, he recalls her crying back to him: "MH17, MH17."
From there he opened Google and read the horrific news first-hand.
While both he and his wife recall falling down, screaming in the street and falling apart, struggling to understand what they were seeing, their overwhelming message five years later is hope – as they reveal on the show how they've found a new joy together, all thanks to their love for each other and the support of their loved ones and other Australians.
After returning to their home in Scarborough, the couple recall on the show how their friends set up a roster to ensure they were never alone and always had people there to cook for them and speak to them. The roster continued for an incredible six months.
Amazing they've now revealed they don't feel anger towards the people responsible for the horrific tragedy – only pity.
"I don't feel anger towards the people who fired the rocket," Maz says on the program. "I feel something much worse, I feel pity towards them. They have to live the rest of their lives knowing that they've killed 298 people, including a phenomenal man and three of the most beautiful children to ever walk the earth."
Rin says she would not want to meet Putin now, but said if she did: "I would need to find it in my heart to forgive him."
She adds: "It's about being proud of who we are and how we've handled things… Tragedy can be a source of strength. Tragedy can teach you things that you never wanted to learn."
The couple set themselves a challenge to find one thing each day to feel happy about, whether it's a bird singing or enjoying some yoga with friends, while trying to live in the now and not focus on the past.
They also insist they purposefully chose not to let their marriage break down, as splitting up would only cause each of them more pain: "You don't want to be known as the people that lost their children, you want to be known as the people that survived losing their children."
Maz and Rin have now now welcomed daughter Violet, two years after losing Mo, Evie and Otis. While Rin admits she was worried at first about another child having to live in the "shadow of the tragedy", she says their fourth child has brought them nothing but joy – and both of them feel she's a gift from her late siblings.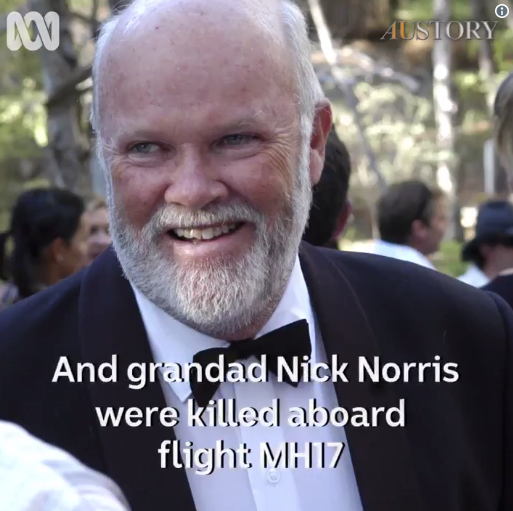 "We are so lucky that Mo, Evie and Otis were part of our lives and came into our world to teach us so many things," Rin says. "And we're so lucky that we have Violet, that they sent her to us to allow us to be parents again, to give us hope and joy."
Maz adds: "I'm the father of four beautiful children, and that's a lucky guy in anyone's language… You might not be able to see three of them, but that doesn't mean they're not here — they're right here."
A criminal investigation into the shocking event remains ongoing by the Dutch Ministry of Justice. In 2015, the Dutch Safety Board found a Buk surface-to-air missile – later found to belong to the Russian 53rd Anti-Aircraft Missile Brigade – had exploded next to the plane at 33,000 feet.
Read more: Wonderful news for the Maslin family who lost three children and their grandfather in MH17 tragedy
While it was supposed to bring down a Ukrainian air force plane, in a horrific error it brought the passenger plane down instead.
Foreign Minister Marise Payne tells Australian Story she remains committed to bringing those responsible to justice.
"In late March 2019, I met my Dutch counterpart Foreign Minister Blok in Sydney, where we reaffirmed our commitment to pursuing justice for the victims' family and loved ones," she says in a statement.
Did you know anyone onboard MH17? Have you been following news about the tragedy in the years since? Do you have a message for the Maslins?