You can slip and slide your way down Switzerland's best kept secret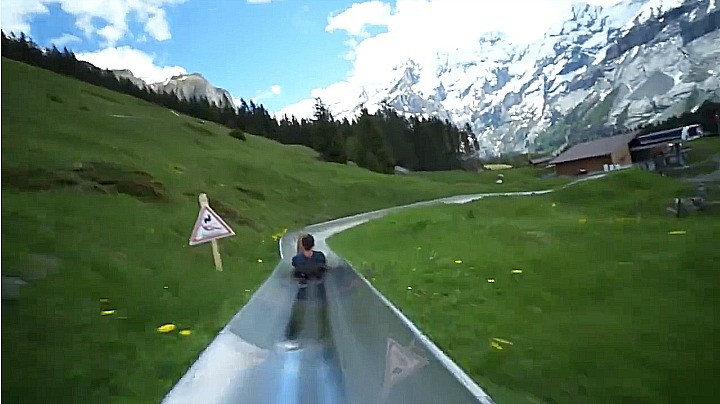 The Swiss Alps are regarded as one of the most beautiful places in Europe.
Pristine mountains, crisp fresh air, snow-capped hills are just a few of the reasons thousands flock to the Alps every year.
While most people head there for the amazing skiing, snowboarding, and exclusive resorts, there's now a reason to make a special trip there in the summer: Europe's most scenic and epic slippery slide.
The slide is located in Kandersteg has gone largely unknown until now, but after video of it surfaced online people are lining up for a chance to get on board.
The slide, referred to as the toboggan run in Switzerland, twists and winds from the top of a mountain to the bottom.
Ad. Article continues below.
It's measures 750 metres long and takes over a minute to reach the end, meaning you get to soak in the thrill and the view without feeling rushed.
Sliders gather a bit of speed, but not enough to make you feel like you're out of control or unsafe and staff are on hand to make sure everyone is kept safe.
The slide is only open in from May to October before it is closed for the snow season.
The ride from top to bottom is an absolute bargain, costing only $5.40 for adult tickets.
Take a look at the amazing slide below and tell us: would you be game to try it?
Ad. Article continues below.
Would You Ride this Alpine Slide in Kandersteg, Switzerland? Get More Travel Pics! <3

Posted by Travel Pics on Friday, March 4, 2016
Would you have a go on this slide? Have you ever been to the Swiss Alps?