Confessions of an overpacker: What not to bring on a trip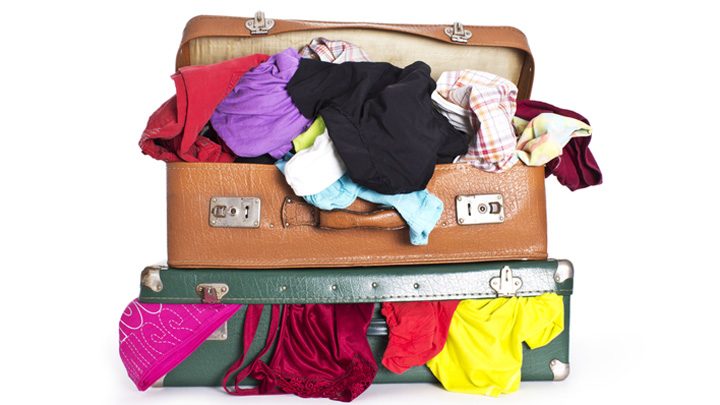 Are you one of those people who drags far too many overpacked suitcases through the airport? It can be a justified fear to think you might be forgetting something but this can sometimes lead to carrying too much unnecessary bulk on what is supposed to be a carefree holiday.
But don't worry: overpacking can be cured and soon you'll be a master at packing light. Not only will you feel better and liberated, you may also save money in oversized baggage fees.
1. Limit toiletries and cosmetics
It can be hard to leave all your favourite cosmetics and toiletries at home but chances are, you won't use all of them. Buy mini versions of your favourites, or buy travel containers to storage. Leave shampoo and conditioner at home – they sell this in every country in the world, as well as razors, deodorant, toothpaste and so on.
2. Pack clothing you can mix and match
Ad. Article continues below.
Making decisions on clothing to bring is the hardest part. No one wants look daggy in their holiday snaps but the trick to packing light is being practical. Think about items that work well together, and if you're really having trouble, plan your outfits for each day of your trip. What will you wear? If you're on a much longer trip, bring clothing that doesn't wrinkle, and can be dressed up or down such as black pants, dresses, scarves and sarongs.
3. Don't pack at the last minute
The worst thing you can do when attempting to pack light is to leave your packing to last minute. How often have you found yourself packing three hours before you leave thinking, "Oh I might need this!". To avoid, pack at least a day or two in advance to pack.
4. Leave some footwear at home
Minimise the amount of footwear you pack when you can. Shoes are often cumbersome and you don't want to be carrying many of these around. Vary your shoes but stick to simple colour palettes and shoes that be dressed up or down like flats.
Ad. Article continues below.
5. Carefully pick your extras
The biggest thing to take away from this list, is to think hard about the possible scenarios that could occur. Do you need that extra pack of batteries? Will you actually use your hairdryer? If you don't think you will then odds are you won't. Be proactive and only pack for what is truly needed. You can always buy things when you get there. Plus more room in your luggage means more room for souvenirs and gifts for friends and family upon your return.
6. Make a checklist
A checklist is the place to start. It will help you remember what to bring and also to plan outfits and day trips. Start writing stuff down in your checklist a few days before packing.
7. Pick the right bag
Ad. Article continues below.
Choose a smaller size suitcase than what you need. This will ensure you don't overfill it and bring too much.
8. Wear your biggest items on the plane
Big ski jackets and boots can take up a lot of space in your suitcase, so wear them on the plane if you can. Or simply layer up for the plane, then take off jackets and bigger shoes when you're on board.
9. And if you're really daring: only take carry-on!
Share your thoughts below.