Downsizing has become somewhat of a rite of passage for retirees, right up there with living out the grey nomad dream and spending extra time with the grandkids.
While the term 'downsizing' might conjure up images of moving into a cosy little two-bedroom unit close to shops and parks, one grandmother in the United States has taken a different approach. Jo Ann Ussery, a hairstylist from Mississippi, turned an abandoned Boeing 727 passenger plane into a three-bedroom dream home, complete with hot-tub.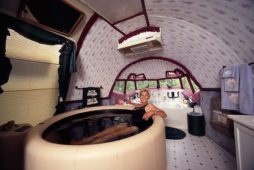 Jo Ann was 52 when she purchased the retired plane for a measly $2,000 after her mobile home was destroyed in an ice storm. She then spent roughly $30,000 setting up and refurbishing the 42 metre-long aircraft, which she had positioned on her property with the nose jutting out over a lake to give the impression it was in flight.