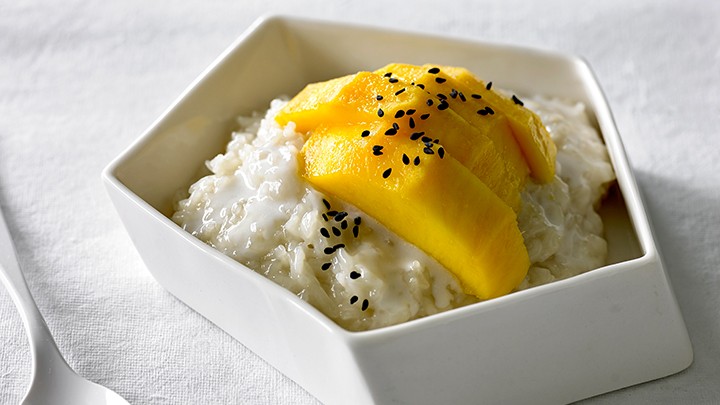 This sweet, delicious Thai dessert is a great novelty for anyone seeking something light and refreshing. It can be made with black or white glutinous rice, and has plenty of potential variations for future experimentation!
SERVES: 6
PREPARATION TIME: 10 MINS
COOKING TIME: 20 MINS
INGREDIENTS
400ml coconut milk
½ cup chopped palm sugar
½ cup sugar
1 tsp salt, plus extra to serve
2 pandan leaves, tied in a knot
2 cups cooked glutinous rice (about
400g)
2 mangoes, peeled and sliced
2 tsp toasted black sesame seeds, to serve
Thick coconut sauce
200ml coconut milk
1 tbsp sugar
1 tsp cornflour, mixed with 1 tbsp cold
water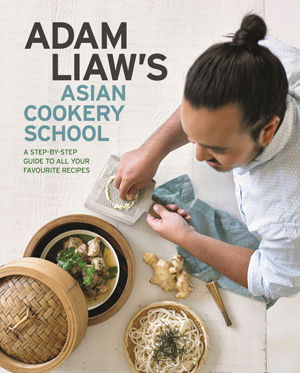 METHOD
1 Mix the coconut milk, palm sugar, sugar, salt and
pandan leaves together in a medium saucepan and bring to
a simmer. Add the cooked glutinous rice, stir occasionally
for about 10 minutes until the rice is tender and the
consistency of loose porridge, then turn off the heat, cover
the pot and allow it to stand for 10 minutes.
2 For the coconut sauce, bring the coconut milk and sugar
to a simmer in a small saucepan, then stir in the cornflour
mixture. Remove from the heat and allow to cool and
thicken.
3 Serve the sticky rice topped with mango, scattered with
the sesame seeds, a little extra salt and the coconut sauce.
Adam's notes:
For a crunchy texture, this sweet is traditionally scattered with mung bean seeds, which are available from Asian grocers, but I find black sesame seeds look and taste a bit nicer.
Palm sugar and ordinary white sugar are often used together in many Southeast Asian desserts. The palm sugar provides a rich flavour but it is not as sweet as white sugar.
This recipe is from Adam Liaw's Asian Cookery School, available now from Hachette Australia.


Comments