SCG crowd roars as Bob Hawke downs a beer at the Ashes Test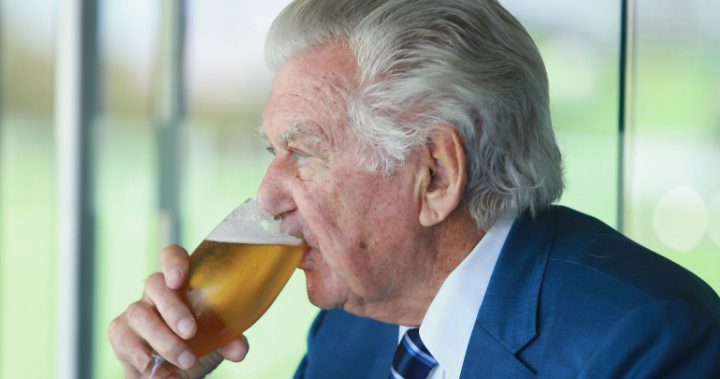 Famous for his love of the amber ale, Bob Hawke delighted crowds at today's fifth Ashes Test in Sydney, as he was broadcast on the big screens while downing a glass of beer.
Bowling great Shane Warne egged Hawke on from the Channel Nine commentary box. "Show us your technique," Warne said. "He doesn't sip it, he gets it down in one. Look how quick he is."
When coverage then cut away to a Pat Cummins delivery and Hawke had still not finished, Warne said "he is 88 years of age, give him a little bit of leeway." 
Still, the former prime minister made short work of his lager, as crowds around the ground erupted into applause and gave him a standing ovation. Hawke then raised his empty glass to the crowd, signalling victory.
Some Twitter users posted their amusement at what has become a bit of a tradition. Hawke also downed beers during the Sydney Ashes Test in 2012 and 2014.
Ad. Article continues below.
One can only hope Shane Warne will not encourage Bob Hawke to strip naked while at the cricket.  You cannot unsee some things.

— Scott Lette (@scott_lette) January 5, 2018
An #ashes tradition. Former Australian Prime Minister Bob Hawke pounds a beer at the Sydney Cricket Ground.
Love this sport so much. pic.twitter.com/u8pSOcoxMA

— Tony Hernandez (@HernandezTony) January 5, 2018
it's the greatest day on the Australian sporting calendar – former PM Bob Hawke just sculled his annual beer on the big screen at the Sydney test cricket match

— Josh Butler (@JoshButler) January 5, 2018
Ad. Article continues below.
Other Twitter users felt the display promoted binge drinking.
We are by no means a party pooper but it was cringe worthy watching Bob Hawke getting cheered on to chug a beer at the #Ashes He's had alcohol problems all his life and we thought he didn't drink anymore

— Countdown Music Aust (@CountdownAus) January 5, 2018
Ad. Article continues below.
To all those claiming Legend and how very Australian at Bob Hawke skolling a beer. Yes it's Australian to have some laughs and skoll a beer at the cricket. What's not Australian is cheering on an 88 year old alcoholic doing it.

— Disco Stu (@PGBBEME) January 5, 2018
Hawke believes that the fact Aussies could relate to him, made him so popular during his political career.
Read more: Bob Hawke suggests today's leaders take a leaf from his book
In an interview late last year, Today's Sylvia Jeffreys asked the now 88-year-old Hawke about the Australian public's fascination with his drinking: "When you skol a beer, the nation cheers. Why do you think that is?"
Ad. Article continues below.
"Well, Australians like a beer. I suppose the thought of their Prime Minister holding the world speed record of two-and-a-half pints in 11 seconds makes them sort of vicariously proud," Hawke said.
"And it's fun, you know. It's not taking yourself too bloody seriously."
Do you think we should celebrate Bob Hawke's drinking antics or is he promoting binge drinking?