First photos of Prince Henrik's funeral chapel: decorated with multicolour tulips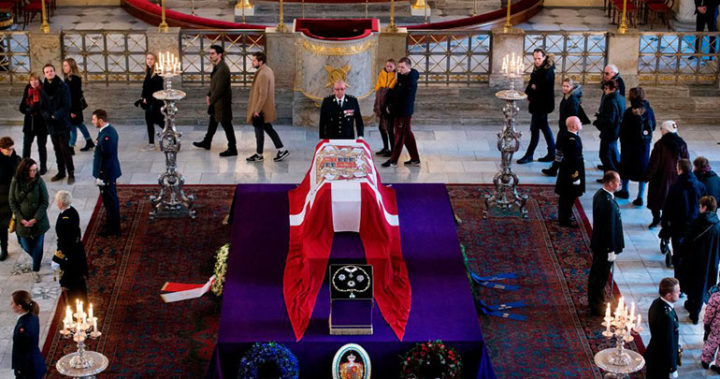 The first photographs have been released on Instagram tonight of the Danish family's sombre and respectful ceremonial setup for Prince Henrik's funeral which will be held later today.  The coffin is photographed, and the flowers presented in the Church multicoloured tulips.
The pictures below are captioned in Danish, and show the pulpit with beautiful tulips.   "In the flower decoration, the tulip varieties were used for the papaya yellow, double tulips and some tulips in the colors red, pink, orange, yellow and purple. The flower decoration is located at the castle church's pulpit, where the tulips are arranged around the balustrades."
Queen Margrethe's husband, Prince Frederick Henrik 83, passed away peacefully in Fredensborg Palace on February 13.  And today, his family have prepared the Danish Palace in Copenhagen for his funeral.  His coffin has been in rest in the church at Christiansborg Palace on a small island called Slotsholmen.  The public have been able to visit the casket and pay their respects prior to the funeral. 
The Danish caption for this post says "Royal Highness Prince Henrik's brother at the bishopric in Christiansborg Castle Church".
Ad. Article continues below.
Ad. Article continues below.
Photographs were released three days ago showing the saddening journey of the Prince's casket from Fredensborg Palace to Amalienborg Palace, about 30 minutes from Copenhagen.  
Ad. Article continues below.
The Prince battled poor health for years, and was stricken with dementia.  He died in his sleep surrounded by family. 
Ad. Article continues below.