Neighbour furious after receiving angry letter about front yard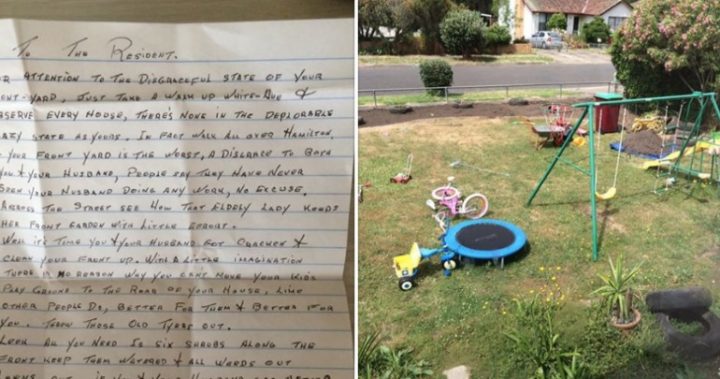 A woman in the Victorian suburb of Hamilton has been left fuming after receiving a rather aggressive note from someone on her street.
Ebony Ackroyd said she came home to find the anonymous letter ripping into her about the state of her front garden.
The neighbour told her to "observe every house, there's none in the deplorable lazy as yours".
"In fact walk all over Hamilton and your front yard is the worst, a disgrace to both you and your husband," they said.
"People say they have never seen your husband doing any work, no excuse.
Ad. Article continues below.
"Across the street see how that elderly lady keeps her front garden with little effort."
It went on to berate her for spending her money on haircuts instead of paying to fix the garden.
"There is no reason why you can't move your kids' playground to the rear of your house, like other people do, better for them and better for you. Throw those old tyres out.
"If you and your husband can afford fancy hair cuts, you can dam (sic) well afford six shrubs for your front. People say wake up clean and tidy up, that goes for you both," the note said.
While we all know bad neighbours can be a major inconvenience, Ms Ackroyd has hit back and slammed the note writer for doing it anonymously.
Ad. Article continues below.
"So to receive this letter in my mailbox I am absolutely furious! I mean seriously! I would never do this to someone no matter how bad their yard looked because we don't know their story. We don't know what's going on behind closed doors! We don't know if they are 'lazy' or if there is something wrong," she said.
She went on to say herself, husband and three-year-old son had all been sick with gastro over the past few weeks, which was why the yard had been left in such a state.
Either way, the whole thing has certainly raised debate and left people asking who's really in the wrong.
It certainly seems the days of looking out for your neighbours and getting to know them are over for some!
Would you ever confront your neighbour if you had an issue with them? Are you friendly with your neighbours?