Melanie Griffith reveals devastating medical diagnosis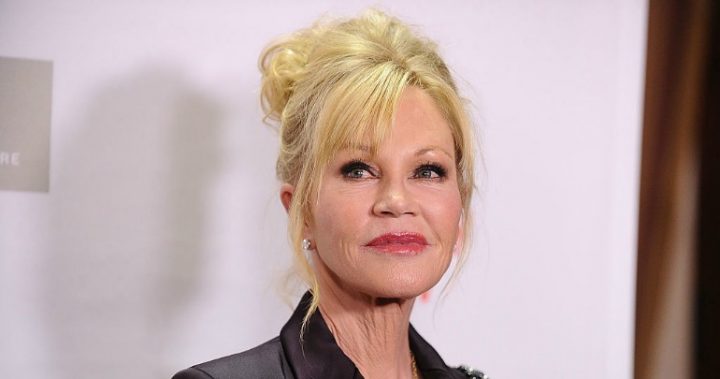 She's one of Hollywood's most loved actresses but Melanie Griffith has revealed that she's living with a serious medical condition.
The 60-year-old has announced she has epilepsy.
The Milk Money star has known about her condition for six years and has only just gone public with her health diagnosis.
She made the announcement at a Women's Brain Health Initiative panel earlier this week.
The event was moderated by Sharon Stone, who had herself suffered a stroke 16 years ago.
Ad. Article continues below.
Read: Sharon Stone turns heads in sultry black mini dress
According to The Hollywood Reporter, Griffith became aware of her condition after she had two seizers, one of which happened on a boat while she was attending the Cannes Film Festival in 2011.
"I had this major grand mal seizure and they took me to the hospital in Cannes and then brought me back to the boat," she revealed during the panel.
"And then I had another seizure and I went back [to the hospital]. They did the EEG and started to look at it seriously.
Ad. Article continues below.
"When I came back [to the U.S.], I was diagnosed with epilepsy and nobody had said to me over a period of 20 years, no one paid enough attention to even diagnose me."
While epilepsy impacts sufferers in different ways, Melanie believes that stress brings on her fits: "I was extremely stressed out. Every seizure that I had was at a point when I was extremely stressed."
She joked that splitting from her ex-husband Antonio Banderas after 18 years of marriage was the key to her recovery.
Thankfully, the Something Wild star says she hasn't had a seizure in over four years and revealed that after recent tests on her brain, doctors couldn't find signs of epilepsy: "They did all the tests on my brain. They couldn't find the epilepsy; they couldn't find anything wrong. It's pretty much that it was stress."
Ad. Article continues below.
While epilepsy can't be cured, it can be managed. Epilepsy Action Australia states that up to 70 per cent of people with epilepsy control their seizures with medication.
Other forms of treatment can include surgery, Vagnus Nerve Stimulation, modified diets and alternative therapies.
Do you or anyone you know have epilepsy? How do you manage your condition?