The thigh's the limit as sexy Sharon Stone heads to her own 60th party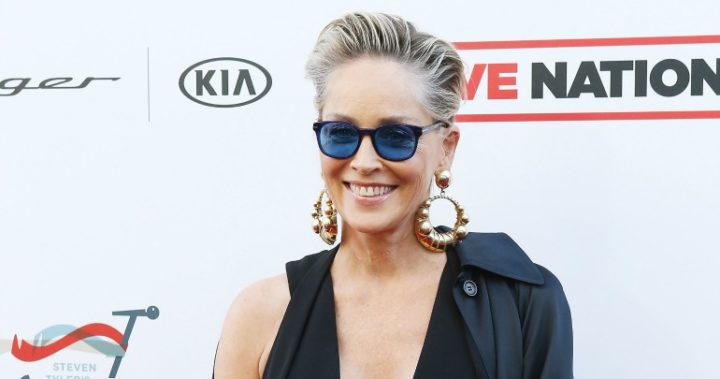 Here at Starts at 60, we think turning the big '6-0' is something to be celebrated. After all, life starts at 60!
One celebrity who is about the join the big leagues is American actress Sharon Stone. Over the years Stone has wowed us with her stunning looks and saucy scenes, with her sensual roles in Basic Instinct, Casino and Total Recall making her a Hollywood sex symbol.
In a cheeky Instagram snap, Stone revealed she's off to have an early 60th birthday party with friends and family. Stone's real birthday may be on March 10, but that doesn't mean she can't make it a birthday week!
In the Instagram picture, Stone looks carefree, lounging on a grey sofa. Proving she's still got it, she wears a short, black, cut-out dress and accessorises with a pair of large hoop earirngs and a golden ring.
Perhaps the most interesting part of her outfit is her feathery boots, though. The  design makes the boots look more like a pair of '80s leg warmers. But the star clearly has a taste for an avian touch to her glamour, having recently donned a black feathery ensemble in a sexy photoshoot for Vanity Fair.
Ad. Article continues below.
The 59-year-old star looked sensational in a series of photos for Italian Vanity Fair's new issue, showing off her figure in lacy black underwear underneath a black fur coat.
Ad. Article continues below.
Towering in high heels, she pulled a series of poses in front of the photographers. Throughout the shoot, she looked to be in her element, returning to the limelight in a dirty warehouse, with photographer Carter Smith working his magic on the snaps.
Ad. Article continues below.
Stone loves her high heels, often wearing them while out and about.  Unfortunately, yesterday the Basic Instinct star regretted her choice of footwear, when she had a fall while out in Los Angeles. The paparazi snapped a few images of the star as she left Beverly Hills restaurant The Grill. The actress tripped over her heels and fell on the cement, as the photographers, ever the gentlemen, snapped away without giving her a hand.
Two of the actress' friends helped her get to her feet before Stone turned around and gave the peace sign to the photographers and cracked a smile to show she was okay.
What do you do for your 60th birthday? Was it a big event or just family and friends?
Ad. Article continues below.
With Facebook removing news sites from your feeds we ask that you sign up for Starts at 60's emailers here. And to keep us on your wall, join some of our new Facebook groups and clubs:

News Junkies Club – Australia
News Junkies Club – USA 

See news on the change and links to all our other clubs and groups here.