If you walked the entirety of the paths you would struggle to do half a kilometre, which also perhaps explains why so many people who are walking impaired have come to share the joy of the spring flowering. All up, amongst other things, there are 26 different types of tulips featured, thought the fact that there's a brochure doesn't go a long way towards identifying them when there's six varieties of both red and yellow, not to mention the four of white. It's extraordinary to think that there are purportedly 90,000 blooms planted here, though the sceptic in me always wants to query such numbers.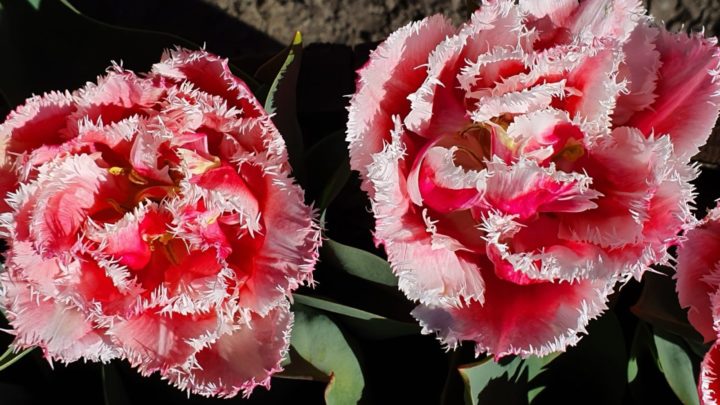 The catering staff would be rubbing their hands in glee, if only they had time to stop. I first tried at the Country Women's Association, ever-noted for their tea and scones. However, stuck in traditional mode, the aged, but vigorous, lady at the helm had scorned the use of credit cards and thus lost my business (though the kindly lady beside her beckoned me to use the ATM across the road). I ventured a little further towards the middle of Corbett where a much younger man serving beverages was not as encumbered with what used to be the only method of transaction.
There's an old style rotunda that seems constantly to be issuing some sort of music via a rotating system of bands and choirs. John Williamson even pops in for a gig and there's a cinema night as well. Stalls offering all manner of things are randomly scattered around the edges; it's a veritable carnival atmosphere and the weather has co-operated, sunshine being the order of the day. If you forgot your hat well, there's a stall for that as well and, speaking from personal experience, they're quality millinery.
It's easy to get caught up in the seemingly aimlessness of it all, floating amongst the vibrant hues, returning to sections you've already seen twice and there's a special vibe of people enjoying themselves, framed by crab apples, cherry trees, oak, maples and others, all beneath a crystal clear spring blue sky.
Though it costs, it's my fourth excursion here, so I guess they must be doing something right.
Been travelling? Travel at 60 wants to publish your story. Simply sign up as a contributor and submit your stories. When your story is published, you'll go into the draw to win some great weekly prizes. You can also join the Travel at 60 Travel Lovers Club on Facebook to talk to other travellers in the Travel at 60 community.