Fondue
Cheese and meat fondue really took off in Australia and the United States (and probably a host of other countries) during the 1960s. Besides being creamy, wonderful, and indulgent in the best possible "this is so worth it" kind of way, and though it mightn't meet any health standards, it sure was the stuff of dreams.
INGREDIENTS
For the fondue:
1/3

 

pound

 

firm alpine-style cheese

 

such as gruyere

1/3

 

pound

 

fontina

1/3

 

pound

 

gouda

2

 

tablespoons

 

cornstarch

1

 

cup

 

dry white wine

 

such as Sauvignon Blanc

1

 

clove

 

garlic

 

minced

1

 

tablespoon

 

fresh lemon juice

1

 

tablespoon

 

brandy

1

 

teaspoon

 

Dijon mustard

1/8

 

teaspoon

 

nutmeg
Assorted fondue dippers:
Boiled baby new potatoes in their skins

 

quartered if large

Lightly steamed broccoli florets

Lightly steamed cauliflower florets

Lightly steamed asparagus

Button mushrooms

 

wiped clean and stem removed

Cherry tomatoes

Sliced firm apples

 

such as Granny Smith

Cooked sliced hot sausage

Cubed French bread or sourdough
METHOD
Grate all of the cheeses. In a medium bowl, combine the cheeses with the cornstarch, tossing thoroughly to coat all pieces.
In a stove-safe fondue pot or large heavy saucepan, bring the wine, garlic, and lemon juice to a simmer over medium-low heat. Add the cheeses to the simmering liquid a little at a time, stirring well between each addition to ensure a smooth fondue. Once smooth, stir in the brandy, mustard, and nutmeg.
Arrange an assortment of bite-sized dipping foods on a platter. If necessary, carefully pour the fondue into a fondue pot. Serve with fondue forks or wooden skewers. Dip and enjoy!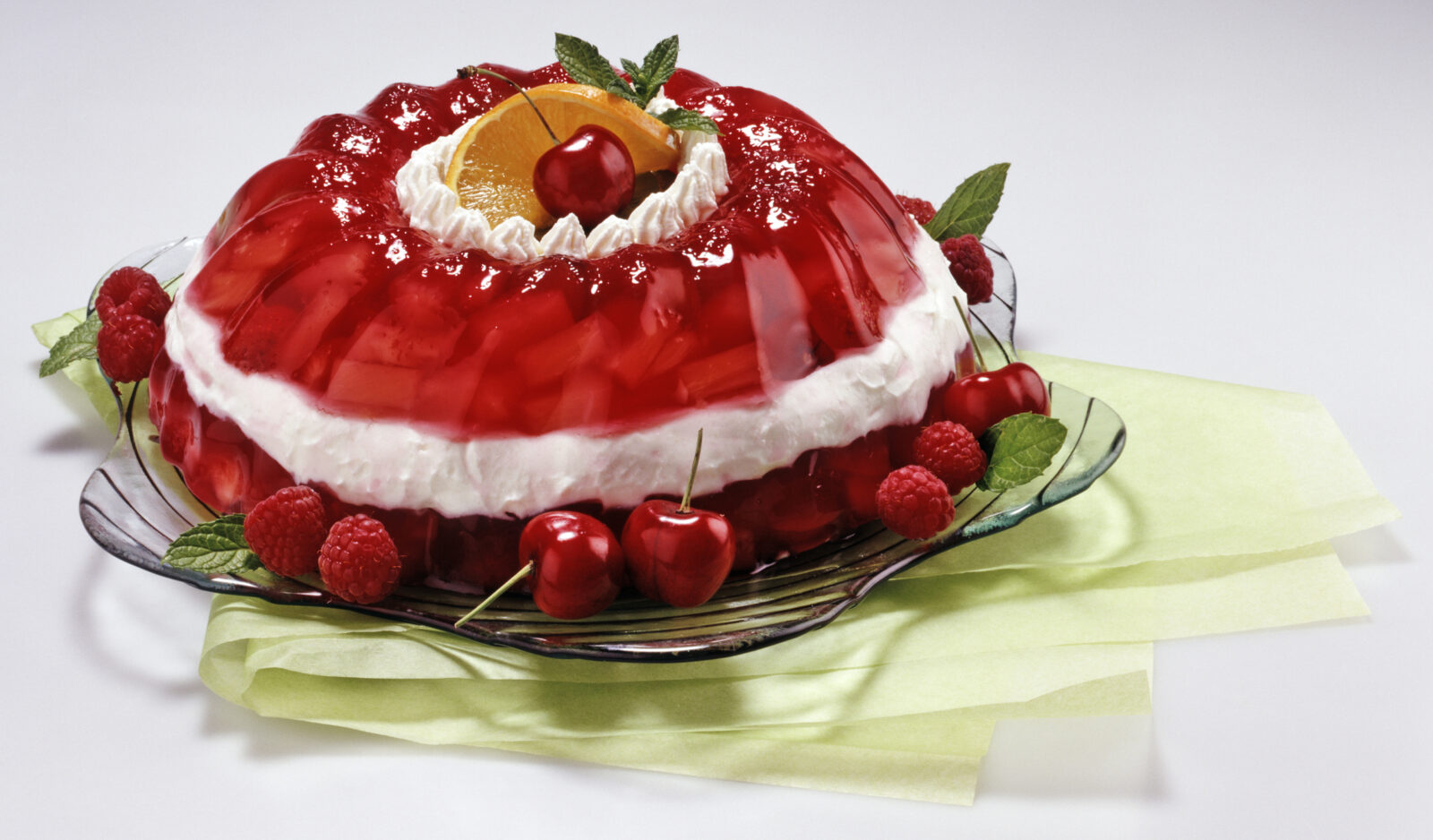 Fruit encased in jelly
All manner of fruit would be encased in wobbly jelly in the Swinging '60s. These gelatin moulded desserts were often creative masterpieces with fruit, flowers and other sweets often trapped inside.
INGREDIENTS
METHOD
Prepare fruits for the cake. Clean and cut them into equal pieces. W wouldn't recommend cutting raspberries. 

Place raspberries, followed by strawberries inside your chosen jello mould

Add mango, orange, and green grapes.

Finish off by laying out purple grapes. Dissolve jello in hot water, following instructions on the box. Let the jello mixture cool competently.

Slowly pour the mixture over the fruits. Shake the tray a little, so it goes through all the sides. Cover the fruit competently with the jello.

Leave it refrigerated until completely set, for about 2 hours. In order to remove it from the tray, pour hot water into a large bowl, and place the dish into it. As soon as you see a little bit of melting on the sides, cover the jello with a serving plate and turn it over. If necessary, wipe off the sides around the jello.
Return to the refrigerator to keep it cold, until ready to serve.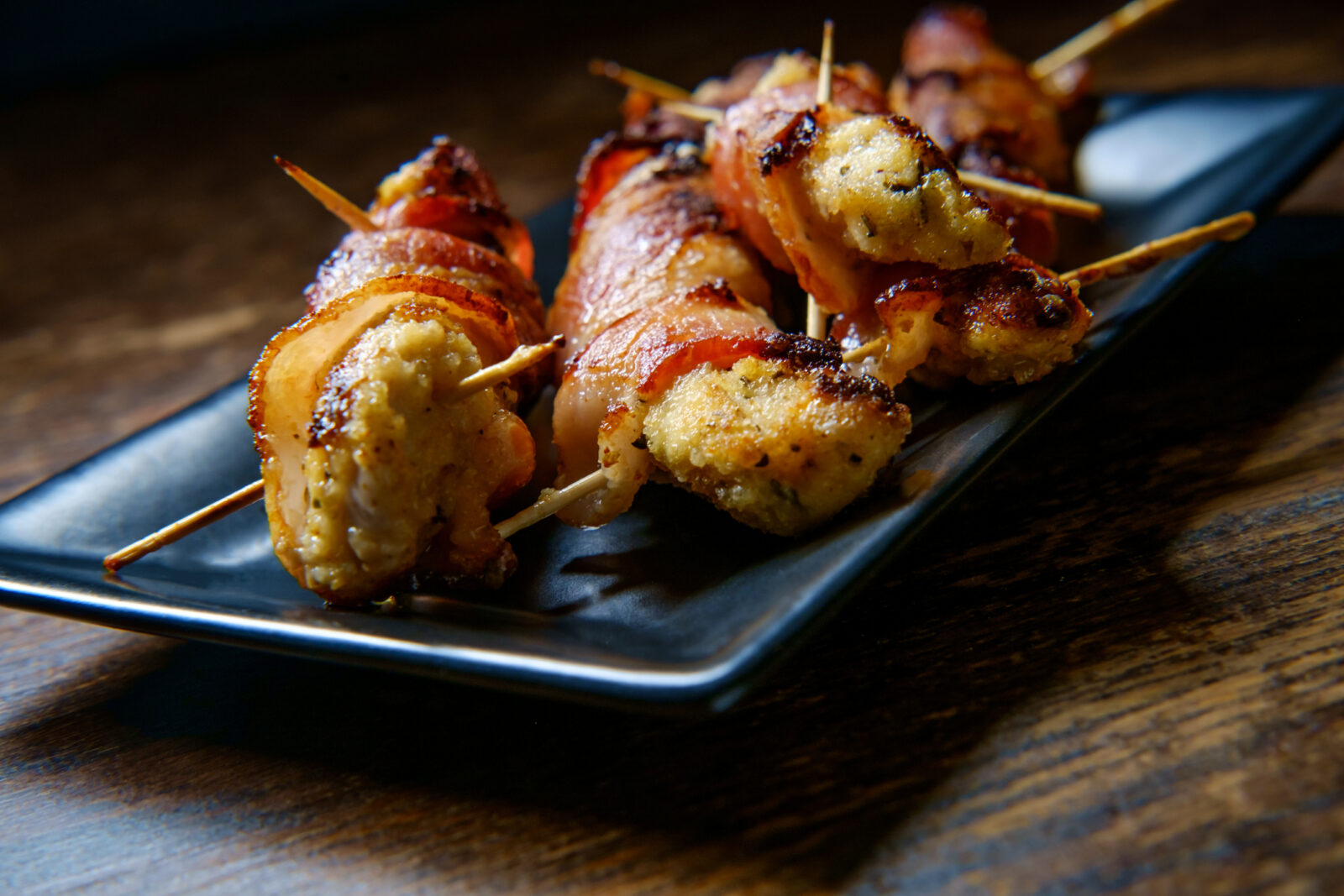 Chicken liver rumaki
Bacon-wrapped chicken livers were a staple of cocktail parties in the '60s. The appealing saltiness of the bacon and the richness of the chicken liver made this bite-sized morsel a savoury favourite.
INGREDIENTS
4 slices bacon, halved
8 canned water chestnuts, drained
4 chicken livers, cut in half
Soy sauce
1 tsp. grated, peeled fresh ginger
1 tbsp. brown sugar
METHOD
Preheat the oven to 200°C. Lay bacon on a cookie sheet and bake until cooked but not crisp, about 10 minutes. Remove pan from oven and drain off any fat, then blot bacon and pan with paper towels.
Place 1 water chestnut in the middle of each piece of bacon, then top each with half a chicken liver. Place a drop of soy sauce, a pinch of ginger, and a sprinkle of brown sugar on top of each liver. Wrap bacon around water chestnuts and livers and secure with a skewer. Return pan to oven and bake until bacon is crisp and golden.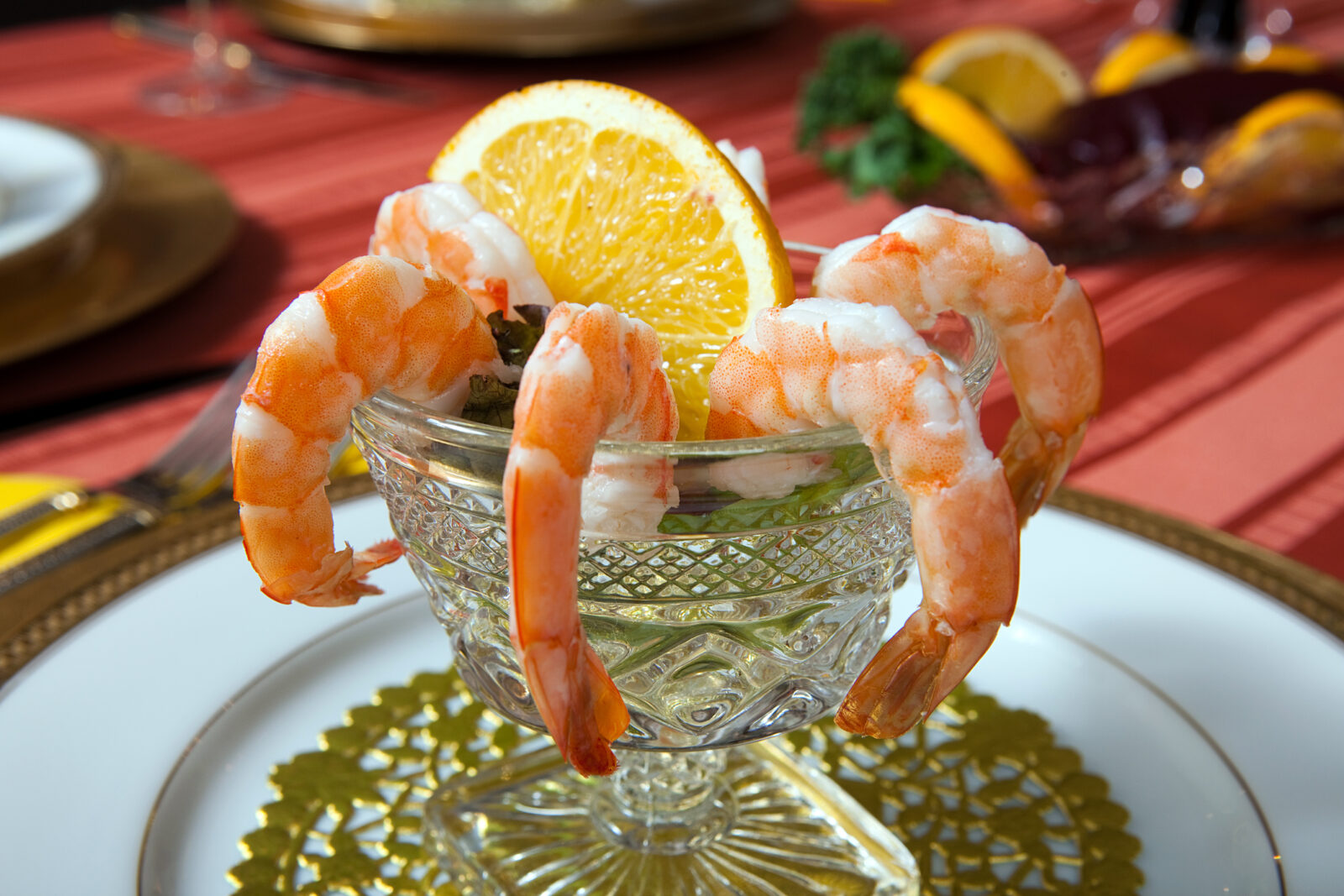 Prawn cocktails
Also known as 'shrimp cocktail' this was the only starter you could serve to get your dinner party off to a flying start in the '60s. Consisting of shelled, cooked prawns in a cocktail sauce and served in a glass it was one of the most popular hors d-oeuvres around.
INGREDIENTS
2 x 225g packs raw king prawns
200g mayonnaise
50g tomato ketchup
1 tsp Worcestershire sauce
1 tsp lemon juice, plus lemon wedges, to serve
a large pinch of paprika
1 ripe avocado, sliced
2 Little Gem lettuces, shredded
a large pinch of cayenne to finish
METHOD
Bring a large pan of water to a boil and tip in both packets of prawns. Cook for around 3-4 minutes, until pink and cooked through. Drain the prawns once cooked and spread out on a plate to cool.
Meanwhile, mix together the mayonnaise, ketchup, Worcestershire sauce, lemon juice and paprika in a bowl. Taste and season with salt and pepper.
Once the prawns are cool to the touch, mix with the sauce. Line 6 cocktail glasses with avocado slices around the sides and divide the shredded lettuce between them. Top with the prawn cocktail mixture and sprinkle with a little cayenne pepper. Serve immediately.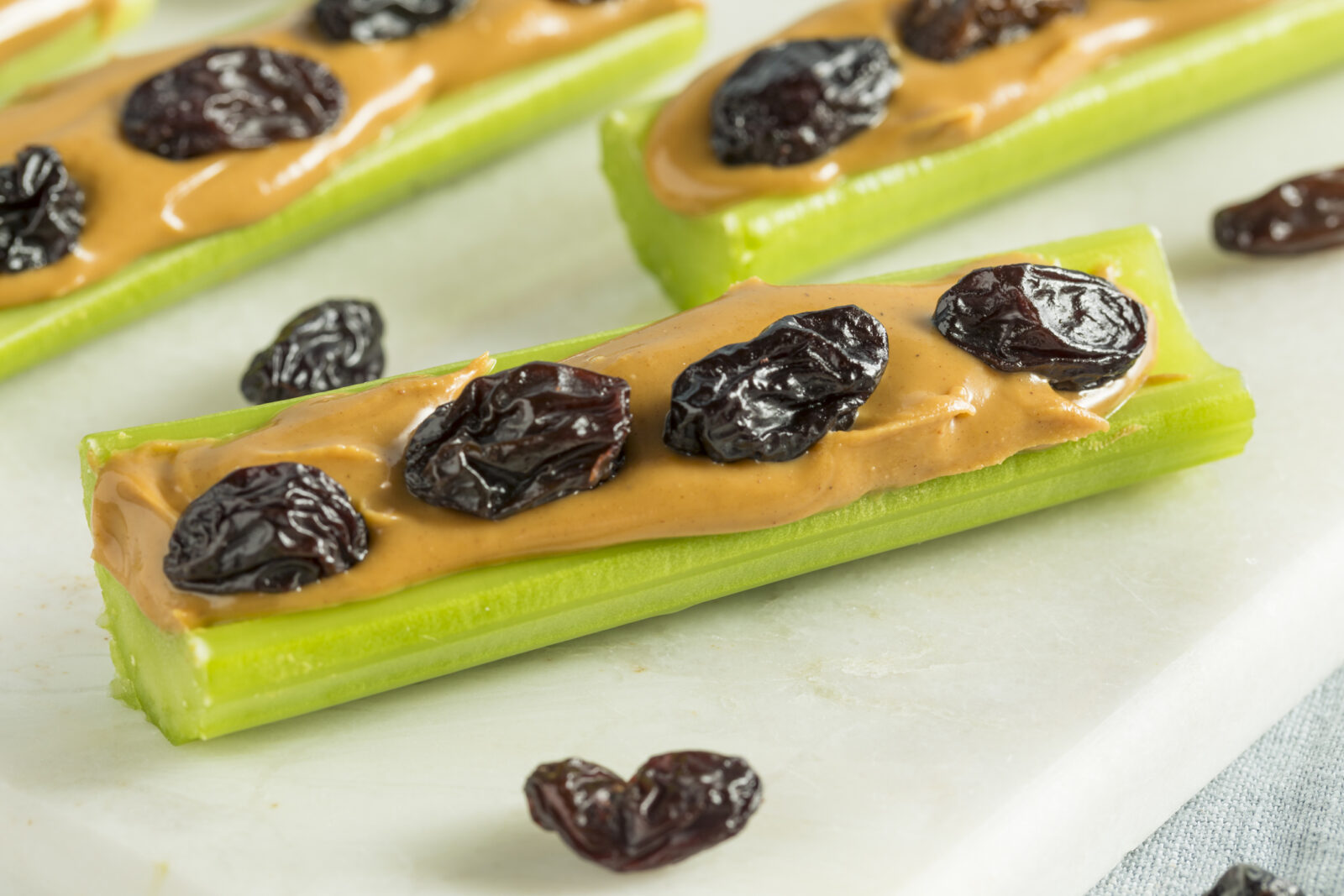 Ants on a log
A typical 1960s appetiser. So simple, so delicious. This one had your guests coming back for more.
INGREDIENTS
3 to 4  Celery Stalks
1 Package  Raisins
2 cups  Peanut Butter – Creamy
METHOD
 Clean and slice celery into finger lengths. Spread peanut butter onto celery and sprinkle with raisins and serve.
NOTE: You can also vary the toppings and spread cream cheese instead of peanut butter.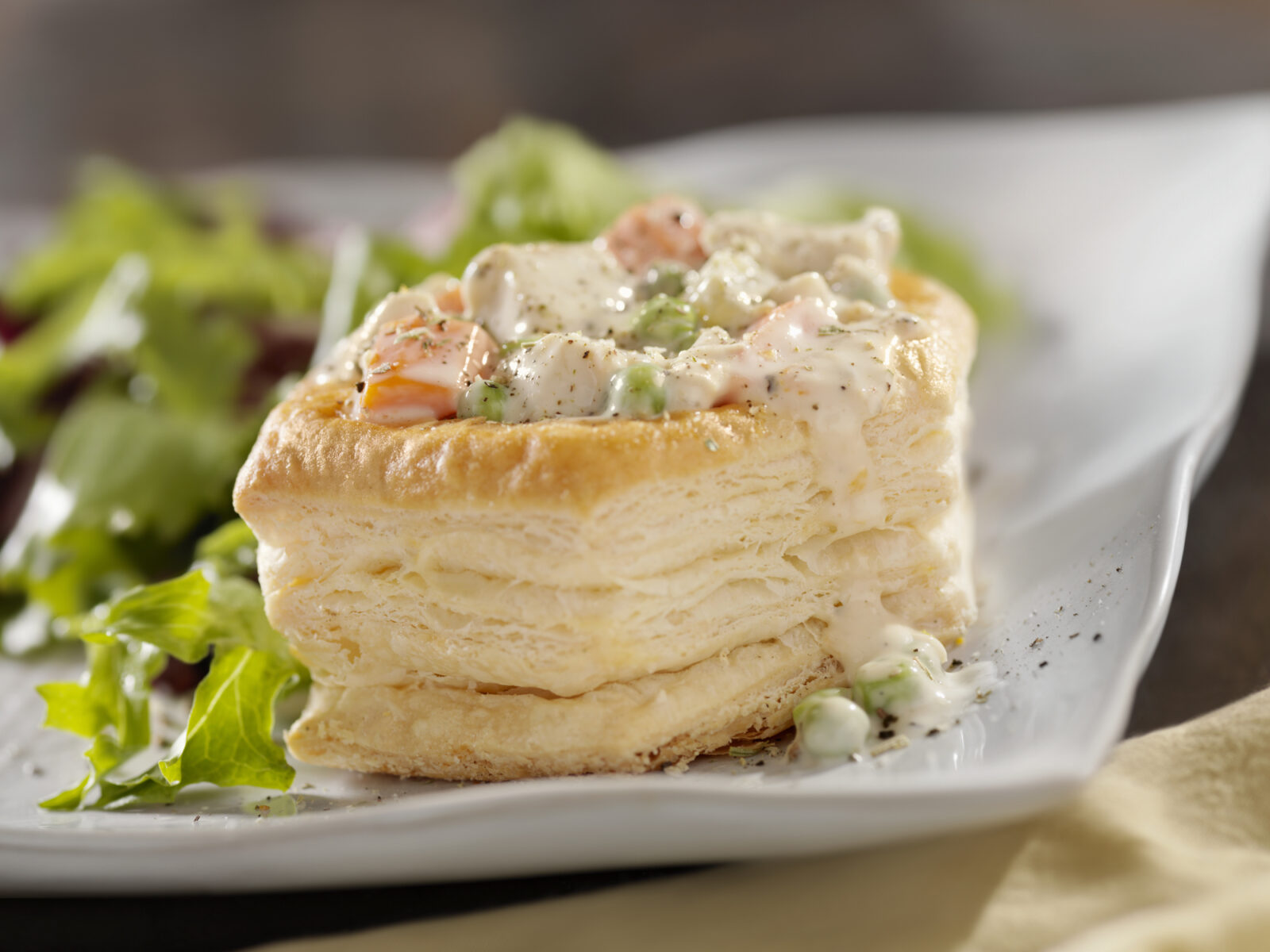 Chicken a la King
You certainly loved the creamy sauces in the '60s, and this diced chicken dish was just one of them. Served at countless showers, lunches and weekend parties Chicken a la King was an easy and elegant dish.
INGREDIENTS
METHOD
Boil water in a cooking pot. Add chicken breast. Cover and cook in medium heat for 20 to 25 minutes. Remove the chicken from the pot. Let it cool down. Slice into cubes. Set aside.

Melt butter in a pan. Continue to cook on low to medium heat until the butter gets hot.

Saute onion, green bell pepper, and mushroom.

Add Knorr Chicken cube. Continue to stir until all ingredients are well blended.

Add all-purpose flour. Stir.

Pour milk into the pot. Stir. Let boil.

Add cubed chicken and capsicum. Season the chicken ala king with salt and ground black pepper. Continue to cook while stirring for 2 minutes or until the sauce thickens.

Serve. Share and enjoy!