One for the mystery lovers out there! Jane Harper's Exiles is the third and final instalment of the Aaron Falk series with a 4.2 star rating. The story follows on from the author's best international seller The Dry and Force of Nature, as federal investigator Aaron Falk uncovers the mystery surrounding a woman's disappearance.
At a busy festival site on a warm spring night, a baby lies alone in her pram, her mother vanishing into the crowds.
A year on, Kim Gillespie's absence casts a long shadow as her friends and loved ones gather deep in the heart of South Australian wine country to welcome a new addition to the family.
Joining the celebrations is federal investigator Aaron Falk. But as he soaks up life in the lush valley, he begins to suspect this tight-knit group may be more fractured than it seems. Between Falk's closest friend, a missing mother and a woman he's drawn to, dark questions linger as long-ago truths begin to emerge.
Recommended by Book Club member Lesley Prosser, who said she "couldn't put the book down".
"Well could hardly wait to read this book and I started out a little disappointed. The reason I think was I was still back with my last read so gave myself a break of a week," Prosser began her review.
"Well then I couldn't put the book down it was a mystery of two and the unexpected spiral to the end. I can wholeheartedly recommend this as a fabulous read. No real surprise I guess as Jane Harper the author I have enjoyed all her books to date."
The Bullet that Missed by Richard Osman
 

View this post on Instagram

 
The third instalment to the Thursday Murder Club, Richard Osman's The Bullet That Missed comes highly recommended with a rating of 5 stars. The story follows the murder-mystery club on a journey of mystery and mayhem on a decades-old cold case.
It is an ordinary Thursday and things should finally be returning to normal.
Except trouble is never far away where the Thursday Murder Club is concerned. A decade-old cold case leads them to a local news legend and a murder with no body and no answers.
Then, a new foe pays Elizabeth a visit. Her mission? Kill . . . or be killed.
As the cold case turns white hot, Elizabeth wrestles with her conscience (and a gun), while Joyce, Ron and Ibrahim chase down clues with help from old friends and new. But can the gang solve the mystery and save Elizabeth before the murderer strikes again?
This book comes recommended by Book Club member Jennifer Coffey who said: "Thoroughly enjoyed The Bullet that Missed. I smiled, laughed out loud and shed a tear."
"I wish I knew people like Elizabeth, Joyce, Ibrahim and Ron. They would really brighten up my life," the review finished.
The Washerwoman's Dream by Hilarie Lindsay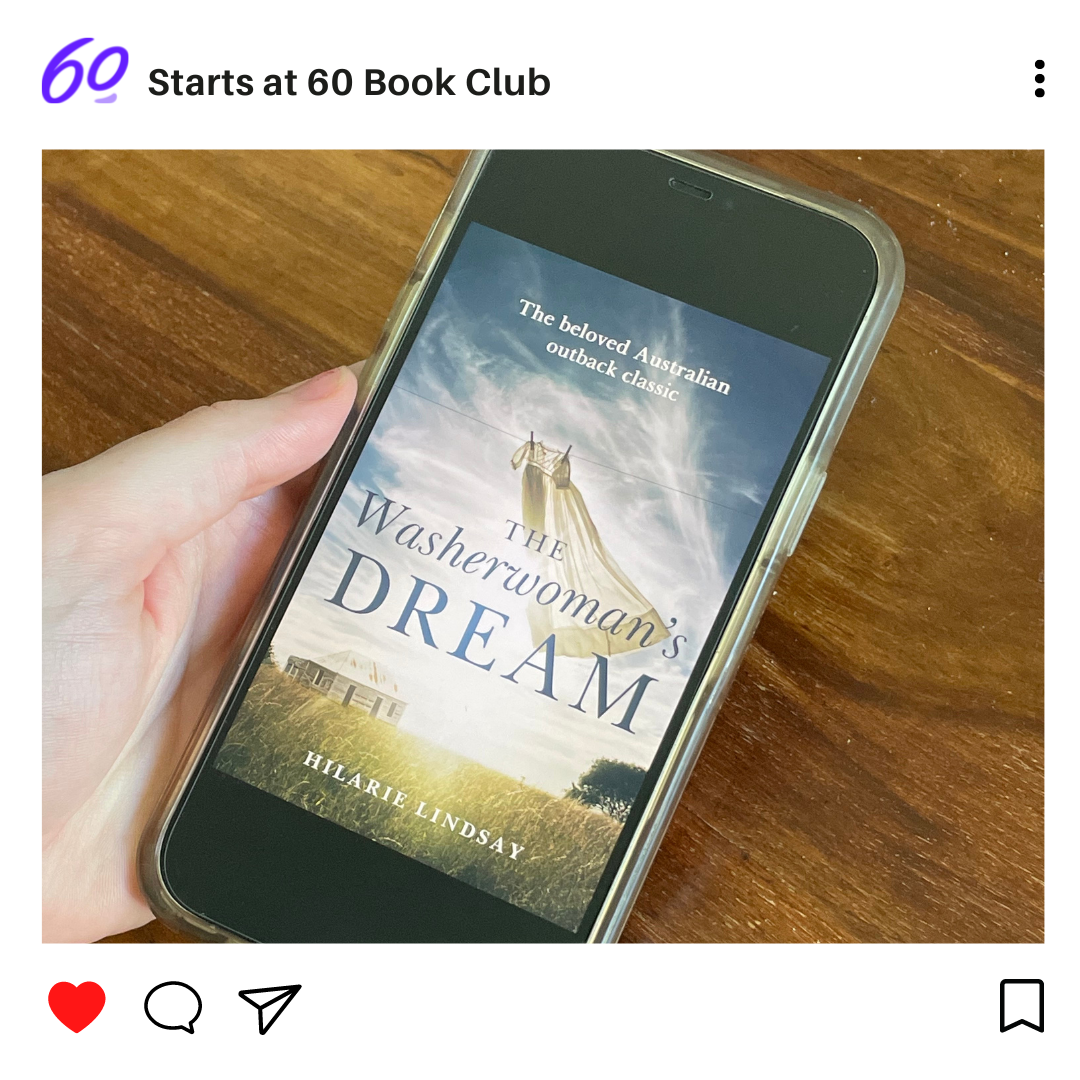 If true stories are more your speed, check out this extraordinary true story of Winifred Steger who came to Australia in the 1880s and was faced with nothing but adversity. Steger found herself to be an Australian hero after she followed her heart, falling in love with an Afghan camel driver and saw her move from North Queensland to the outback.
The epic true story of the indomitable Winifred Steger and her extraordinary life in 19th century outback Australia.
Winifred Steger travelled to Australia with her father in the 1880s when he took up a land grant in north Queensland. The grant proved to be worthless, and faced with poverty, endless backbreaking work and isolation, Winifred's father spiralled into depression and alcoholism.
Left to fend for herself, Winifred battled insurmountable odds to maintain her dignity and sanity, finding solace in writing to ease her hardship. Fleeing an abusive marriage also meant the heartbreak of abandoning her four children – but then miraculously she found love with an Indian trader, Ali. Together with their children, they moved to outback Australia where they ran a camel line. A new phase began in Winifred's life, taking her to places she had only ever dreamed of.
The Washerwoman's Dream is the story of a remarkable woman with a tenacious spirit, and is now an enduring Australian classic. Pieced together by Hilarie Lindsay from Winifred's memoirs, short stories, letters and unpublished novels, this is an account of the amazing life of a forgotten Australian writer.
Recommended by Book Club member Gisela Fischer, who said reading The Washerwoman's Dream is the closest thing she's found to a portal.
"Reading this wonderful book this morning, I've been amongst prickly pear, on a camel and have travelled from Oodnadatta, Roma, Charleville, Dalby and many other small country towns in Australia to Lahore, Pakistan and am now on a ship from Karachi to Jedda and Mecca," Fischer's review read.
Lessons in Chemistry by Bonnie Garmus
 

View this post on Instagram

 
Do you love stories of rabble-rousers challenging the status quo and making changes to life as we know it, then you'll love Bonnie Garmus' Lessons in Chemistry. With a 4.9 star rating, the story follows the "unconventional" Elizabeth Zott making waves for women in the 50s.
Chemist Elizabeth Zott is not your average woman. In fact, Elizabeth Zott would be the first to point out that there is no such thing.
But it's the early 1960s and her all-male team at Hastings Research Institute take a very unscientific view of equality. Except for one: Calvin Evans; the lonely, brilliant, Nobel-prize nominated grudge-holder who falls in love with – of all things – her mind. True chemistry results.
But like science, life is unpredictable. Which is why a few years later, Elizabeth Zott finds herself not only a single mother, but the reluctant star of America's most beloved cooking show Supper at Six. Elizabeth's unusual approach to cooking ('combine one tablespoon acetic acid with a pinch of sodium chloride') proves revolutionary. But as her following grows, not everyone is happy. Because as it turns out, Elizabeth Zott isn't just teaching women to cook. She's daring them to change the status quo.
Meet the unconventional, uncompromising Elizabeth Zott.
Recommended by Book Club member Lyn Fletcher, who said: "Nominated by some as their 'book of the year' and with a reserve list of at least 15 anxious readers at my local library, I was eagerly anticipating reading Lessons in Chemistry."
"I was not disappointed, though it took me a while to get into the story and get to understand the characters – especially Elizabeth Zott, a 'would be' chemist in the 1950-60's, struggling to find her place in the scientific world. This world was dominated by men like Calvin Evans, famous and enigmatic," Fletcher's review continued.
"There are a few interesting plot twists and surprises to keep the reader hooked!"
The German Wife by Kelly Rimmer
 

View this post on Instagram

 
Author Kelly Rimmer keeps readers hooked with a grabbing story inspired by true events, The German Wife. With a 5 star rating, this historical fiction is a page-turner as we see the aftermath of World War II from two sides, bringing up ethical and moral dilemmas.
Berlin, 1934. Sofie Rhodes is the aristocratic wife of a scientist whose post-WWI fortunes change for the better when her husband, Jurgen, is recruited for Hitler's new rocket project. But too late they realise the Nazis' plans to weaponise Jurgen's technology as they begin to wage war against the rest of Europe.
Alabama, 1949. Jurgen is one of hundreds of Nazi scientists offered pardons and taken to the US to work for the CIA's fledgling space program. Sofie, now the mother of four, misses Germany terribly and struggles to fit in among the other NASA wives.
When news about the Rhodes family's affiliation with the Nazi party spreads, idle gossip turns to bitter rage, and the act of violence that results will tear apart a community and a family before the truth is finally revealed – but is it murder, revenge or justice?
Recommended by Book Club member Fran Spears, who said: "I could not stop reading this book. It was sad, true to life and although not exact, it could have been."
"My heart ached for all the characters involved and my imagination took me to a place of horror, terror and utter despair. Kelly Rimmer has done it again by taking you to the pages of fiction, steeped in what could have been reality."
Other honourable mentions include:
Do you love to read? Join our Starts at 60 Book Club here. 
Disclaimer: This post may contain affiliate links, which means when you buy through links on our site, we may earn an affiliate commission at no extra cost to you.