Being a mature-aged student wasn't a concern for me. I had previously completed short courses at other Le Cordon Bleu campuses during my expat years in New Zealand and Canada and in fact, was surrounded by peers of all ages also looking to achieve formal training in the French and modern European cooking techniques. I knew studying at the world's oldest culinary institution would allow me to incorporate the history, philosophy, professionalism and discipline embedded in their teaching and inject this into aged care food.
My chosen course was the school's Diplôme de Cuisine. In Australia, this diploma includes the Certificate III in Commercial Cookery, so you get both certificates by completing the course, which is a real advantage.
During my year of study, I was thrilled to meet M. Andre Cointreau, president of Le Cordon Bleu International during his visit to Brisbane for the formal opening of the new campus kitchens. I was also delighted to work with chef Tom Milligan, Le Cordon Bleu Australia's technical director, when he was directing a truffle demonstration class at Australia's largest French festival, Le Festival.
Upon completing my Diplôme de Cuisine, I received the Le Cordon Bleu Award for Excellence in Culinary Arts in my cohort, in recognition of achieving the highest aggregated marks in the final practical exams for Basic, Intermediate and Superior levels of the course. The award came with a grant towards further study with the cooking school, a huge bonus, which I'll take advantage of in the near future.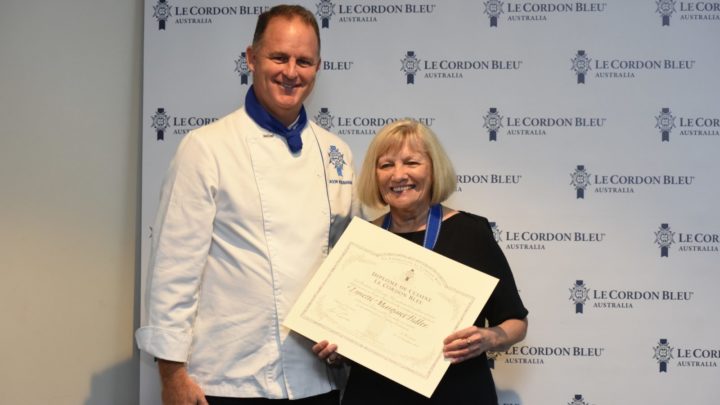 Since graduating on October 28, I feel extremely fulfilled to have completed a life-long dream and confident that I am in a better position to assist in transforming the aged care food industry. In the meantime, I am gaining practical experience of à la carte and event catering working two to three days a week in a highly regarded event centre.
By combining my new culinary qualification and expertise gained in my former career I can explore the changes taking place in the aged-care food industry and seek to improve what is served on the plate to aged-care residents.
There are some excellent not-for-profit organisations already working to achieve change in this area such as The Maggie Beer Foundation and The Lantern Project. People of influence such as Maggie Beer and Dr Cherie Hugo are both inspiring leaders that work tirelessly within their organisations to bring about change to the quality of life through provision of good food and nutrition for residents in aged care. I am currently reaching out to these not-for-profits as I feel my experience can add perspective from both sides of the industry.
There are several commercial companies that also cater to this market specifically, but what has become clear in my research is the more we collectively seek to make change, the more likely it is to create tangible positive outcomes for residents.
My experience of returning to study later in life has granted me with the most incredible opportunities, and more importantly, it has given me the tools to make a qualified change to aged-care industry food standards. My mission is to now use my formal culinary training and my extensive experience working in specialised foods to ensure aged-care residents receive the same high quality cuisine and enjoyment of food as everyone else.
This is an exciting time for aged care in the broad sense. The opportunity to bring new ideas and skills to the food landscape within the industry not only benefits the residents, but the industry itself. My focus is on being part of the change in providing great food that is financially sustainable.
It's my belief and goal that we can do both and we can do both better. We can deliver food that is flavoursome, seasonal and nutritious and still cost-effective. In achieving this goal, the industry could be headlining the news for the right reasons.
Do you have a story to share with Starts at 60? We want to publish it. Sign up as a contributor and submit your stories to Starts at 60. Stories written by over-60s go into the draw for some great weekly prizes. You can also join the Starts at 60 Bloggers Club on Facebook to talk to other writers in the Starts at 60 community and learn more about how to write for Starts at 60.