The conclusion of the video the rapper holds a toy gun to the head of Klump and pulls the trigger showing a "bang" flag. Later the clown President is shown alive and chained up.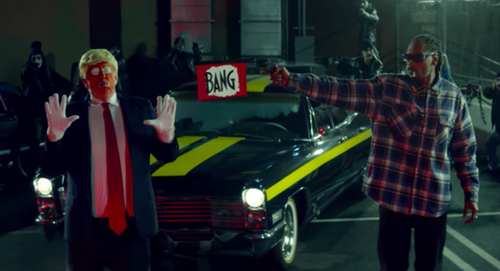 President Trump tweeted after the release of the video:
https://twitter.com/realDonaldTrump/status/841967881516679168
President Trump's lawyer, Michael Cohen, took it a step further and told TMZ, "Snoop owes the president an apology".
Mr Cohen added, "There's absolutely nothing funny about an assassination attempt on a president, and I'm really shocked at him because I thought he was better than that." He continued, "I'm not really sure I understand the artistic value to having somebody dress up as Trump and firing a weapon at him". 
"I certainly would not have accepted it if it was President Obama. I certainly don't accept it as President Trump, and in all fairness, it's not funny, it's not artistic." Mr Cohen stated before adding, "Shame on you, Snoop".
What do you think about it?  Do you think it's freedom of speech or distasteful?