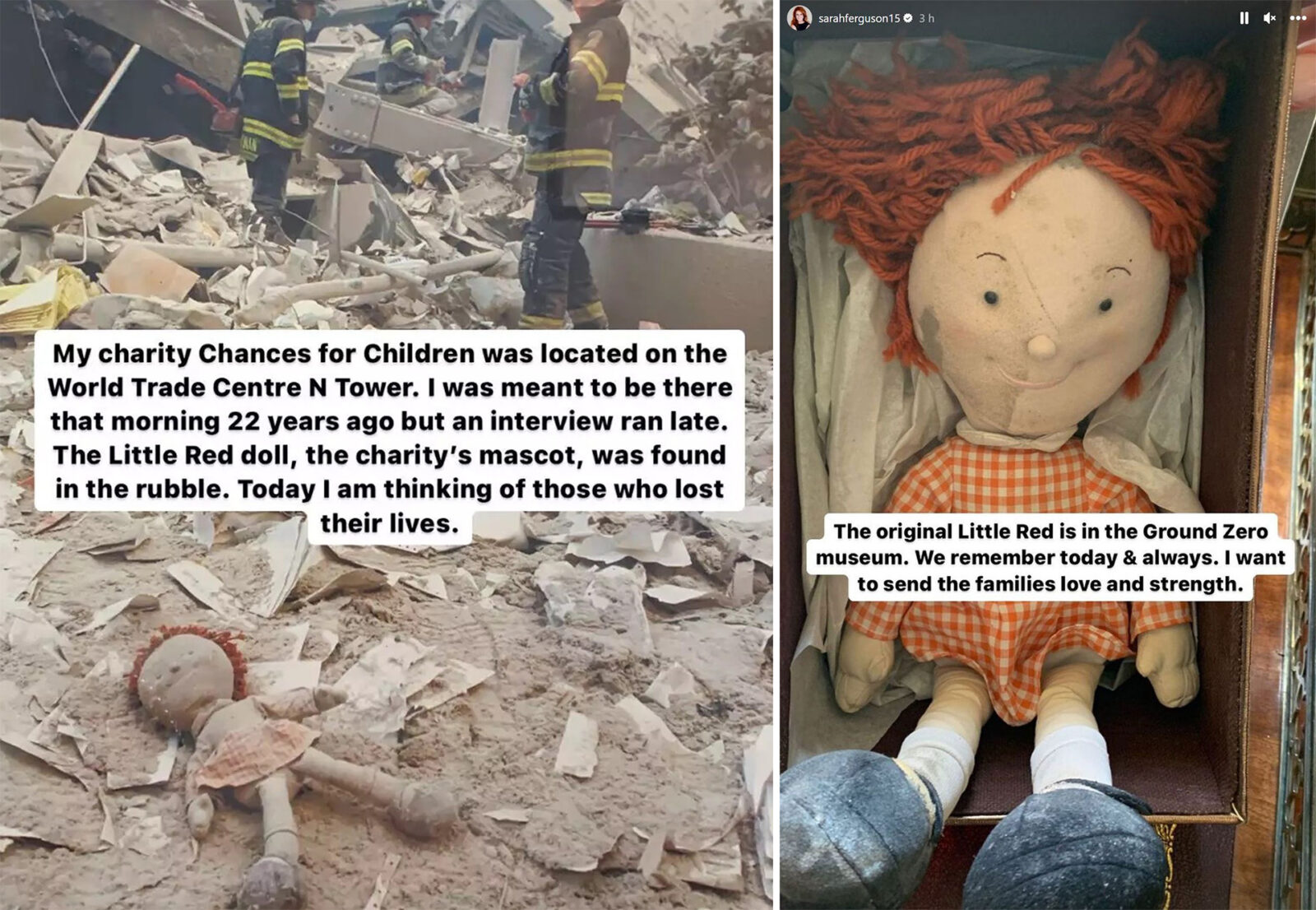 "Today I am thinking of those who lost their lives," she wrote.
"We remember today [and] always. I want to send the families love and strength."
She shared two heart-wrenching photos of her charity's iconic mascot, Little Red Doll: the first of the doll lying in the rubble of the Twin Towers; the second as it is now, displayed in the Ground Zero museum.
According to one contemporary report in the aftermath of the attacks, Ferguson's star members were gathered downstairs in the North Tower lobby, ready to greet the Duchess, when the plane hit.
Her limo reportedly arrived "just seconds later" to collect charity employees and speed them to safety.
Discussing the near-death experience with Hello! in 2018, Ferguson spoke of how it changed her outlook on life. 
"I take every minute as a blessing," she said. "I really do, and I really work hard at it. Because the minute you look too far forward, then you're missing now. The minute you look back,… you can't go back. Hindsight is a wonderful thing."  
She also spoke of the now-iconic photo of her charity's doll in the rubble.
"From 101 floors Little Red came down in her dress, a little tiny ragdoll, and she was found in the rubble. And CNN filmed it and said 'oh a child's doll," and Larry King said 'no, that's Little Red, and she stands for children's rights all over the world'."
"From Little Red, I've gone on to build a lot of schools and taught many teachers."  
It's not the only time a brush with mortality has changed the Duchess' outlook on life. Earlier this year she opened up about her breast cancer diagnosis and subsequent path to recovery.
"I think it's scary for any family member out there, you really start to look at your own demise. It's a wake up call, and you think, how am I going to deal with this?" she said.
"You cannot be complacent with yourself or life or how lucky you are.
'It's really important that my father was right: The show must go on.
"But be mindful of each word you say, be gentle with yourself and people, and be very grateful."