Following their appearance at the park, the couple then enjoyed a wine tasting at a visit to The Hunting Lodge Winery before attending the Queen's Colour Ceremony at RNZAF Whenuapai Airbase, where they met serving members of the Royal Air Force.
Camilla and Charles will spend one week in New Zealand, with an official palace statement confirming they will meet Prime Minister Jacinda Ardern during the trip, which will be the couple's third joint visit of the country.
"During their visit, The Prince and The Duchess will visit programmes and organisations working in areas they are committed to supporting," the statement read. "The Prince will focus on young people and youth opportunity, as well as environmental issues – with particular emphasis on tackling plastic waste. The Duchess will continue her focus on key themes including domestic violence and literacy."
As well as meeting the prime minister, Charles and Camilla will receive an official welcome at the Waitangi Treaty Grounds to "honour the relationship between The Crown and the Māori people". The couple will also visit several locations in Christchurch, with a focus on the city's resilience following the 2011 earthquake and, more recently, the two Mosque attacks in the city in March.
Charles and Camilla's visit comes one week after the couple joined other senior members of the royal family for a series of Remembrance Day events and ceremonies, in honour of Britain's war heroes. Last Saturday, the pair sat alongside Her Majesty the Queen in the royal box at the Royal Albert Hall for the annual Festival of Remembrance.
Honouring the sombre occasion, Camilla opted for a pretty knee-length black dress and wrapped up from the cold air outside in black tights and wore low navy heels.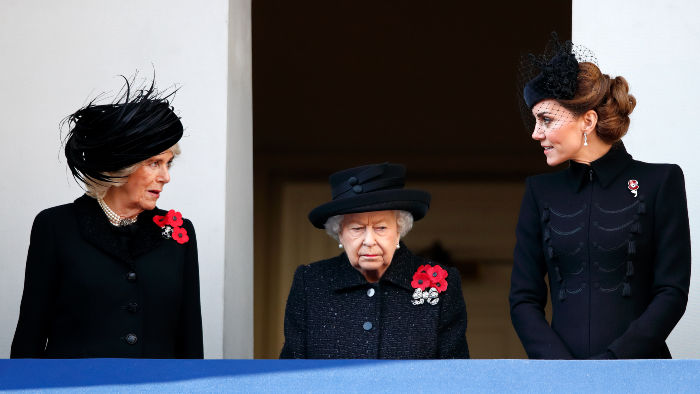 The following day Prince Charles joined his sons Prince William and Prince Harry at The Cenotaph in London where they each laid a wreath at the iconic war memorial. As Charles carried out his official duties, Camilla stood shoulder to shoulder with the Queen and the Duchess of Cambridge on one of the royal balconies.
In keeping with the other members of the royal family and as a mark of respect on Remembrance Sunday, Camilla dressed in a classic button-up black coat and extravagant feathered hat, with three poppies on her left shoulder.