"He taught me how to juggle, made me laugh, pissed me off, encouraged me, showed me amazing worlds and different understandings on life, especially on a philosophical level, showed me how expensive golf was and how to never hit a golf ball because next came the total annihilation of a perfectly good golf club and the list goes on and on," Coley wrote.
"We didn't always see eye to eye, especially as musicians, but we always got along and I thought he was a bona fide, dyed in the wool musical genius and a very deep and contemplative man. He was an enigma and I always had regard for his opinion.
"This is a hard one on so many levels as this is a musical era passing for me. And it will never pass this way again as his song said. He belonged to a group that was one of a kind. I am very sad over this but I have some of the best memories of all of us together.
"Rest In Peace Jimmy. You and Dan finally get reunited again. Tell him and your sweet momma hi for me."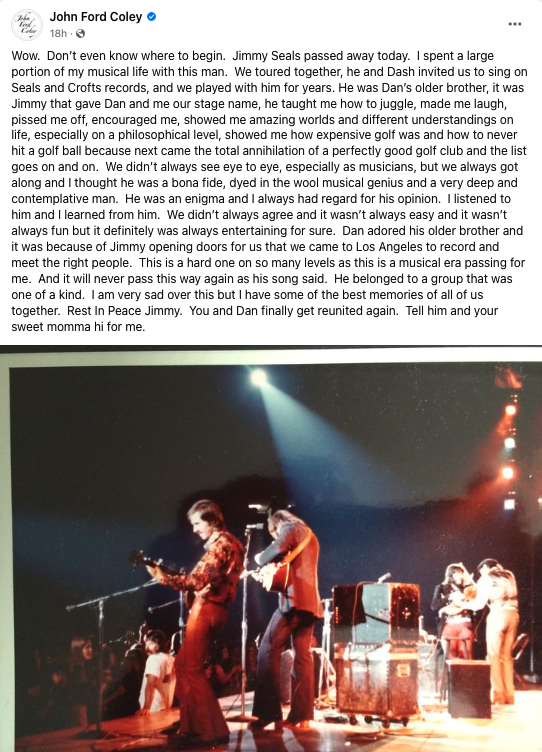 Seals' cousin, Brady Seals said his heart was broken.
 

View this post on Instagram

 
Seals and Crofts were together for eight years before breaking up in 1980. The duo briefly reunited in the early 90s and in 2004.
Fans took to social media to share their condolences for the rock legend.
"John, my condolences to you and to his family. We are definitely witnessing the passing of, to me, the greatest musical era. Thank you for sharing your memories," one fan wrote on Facebook.
"I was really sad when Dan passed so young. Now this, I went through the best years of my life with you guys. So many memories. My condolences to his family," wrote another.
"Much love to Jim Seals and his family and close friends. Seals and Crofts, England Dan and John Ford Coley, Cashman and West, Loggins & Messina, Stephen Bishop…I sure hope you all know what you and your music has meant to the fabric of not only music in America, but in the entire world. This once young boy has and continues to spend hours and hours of allowing your wonderful creation to swirl around his world. And for that, I thank you all!" another said.
"So sorry to hear this. For me, Summer Breeze, Hummingbird and We May Never Pass This Way Again were so much a part of daily drive to school…wore the tape out. Thanks for sharing your memories…," commented another.
Seals is survived by his wife Ruby and their three children.