Kimmel outlines the steps in a calm, unfrazzled demeanour, all the while Arnie gasps for air and waits desperately for the TV host to help him.
"Make a fist at the base of the ribcage, then wrap your other hand around the fist and thrust inwards and upwards," Kimmel demonstrates.
"But before you thrust … take some time to do your own research."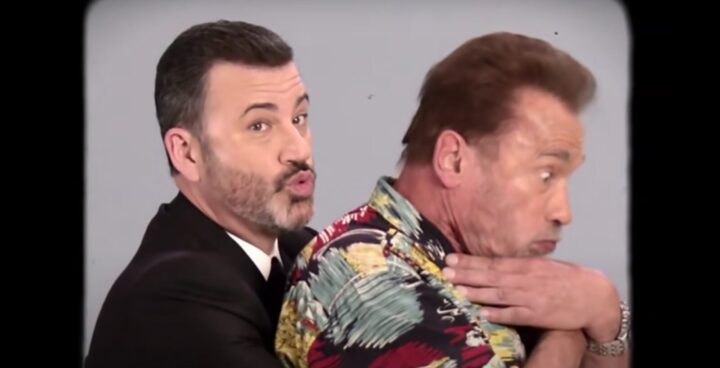 "Find out what the other options are. Check Twitter and Facebook, maybe TikTok. Say, that's a keen dance," he remarks, as Arnie continues to choke.
The host goes on, suggesting all the different research methods one should take on social media before going through with the Heimlich Maneuver. Whilst he's browsing social media, his stance begins to change, and he begins to question whether the Heimlich Maneuver is even a legitimate procedure.
"Maybe that chunk of meat in your companion's throat was planted there by Bill Gates," he says, looking into the camera with feigned uncertainty, Kimmel says.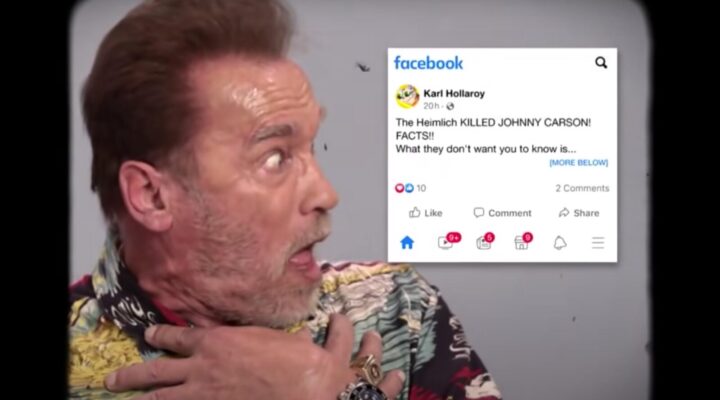 "Don't give into pressure from sheep. Who's to say Heimlich is even a maneuver at all?"
"Maybe it's a hoax. Maybe big pharma is behind it. Don't follow the crowd. Do what's right for you."
As Kimmel continues, Arnie desperately finds a chair and begins conducting the maneuver on himself, before coughing up a huge … dumbbell.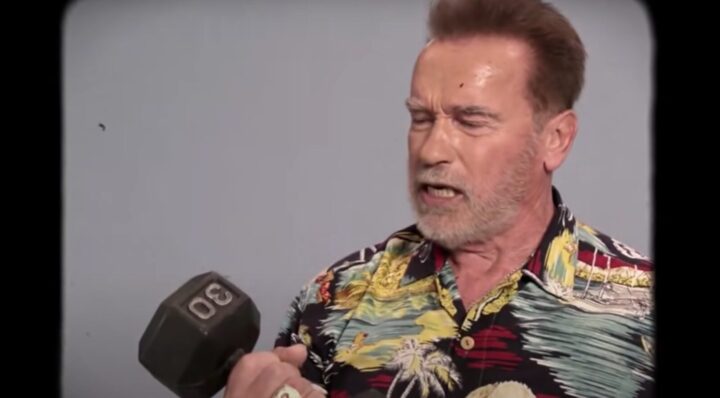 "Ah, that's what it was," says Arnie, finally able to breathe.
"Oh hey you're fixed," Kimmel says with intentional sarcasm.
Arnie then looks into the camera with a fierce expression.
"Get vaccinated my friends," he says, handing the dumbbell to an unprepared Kimmel.
 

View this post on Instagram

 
Arnie has long been open about his views towards those who refuse to vaccinate against Covid-19.
In an online interview with former National Security Council staffer Alexander Vindam and CNN journalist Bianna Golodryga last year, Arnie openly called anti-vaxxers a "schmuck".
"We have to come together rather than fighting and always just saying, 'According to my principles this is a free country and I have the freedom to wear no mask,'" Arnie said.
"Yeah, you have the freedom to wear no mask, but you know something? You're a schmuck for not wearing a mask."
DISCLAIMER: Heimlich is an outdated first-aid procedure and is not the current recommended method for assisting someone who is choking. The correct procedure is here.