We can be using a particular item on a daily basis without even knowing that it has special features to make our lives easier. In some cases, we could be staring at the features and only find out it's purpose many years later. Well, that's what's happen to Barbara when she realised something about her pots. You might have noticed that hole on most pot handles. While it's obvious use is to hang it up on a rack, there is another handy reason why most saucepans feature this hole at the end of the handle.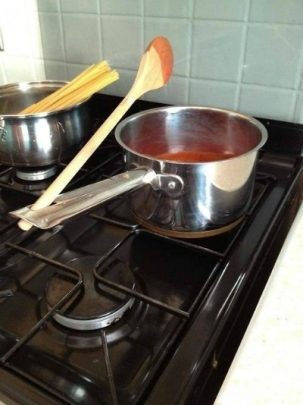 Are you surprised? Yes, most handles of pots and pans have this handy hole at the end, where you can stand your spatula, turner or wooden spoon in such an angle that the contents on them would drip back inside the pot instead of making a mess all over the place.
Yes, many people did not know this feature and have been using other methods to keep their stove top clean, like using a small plate or by just resting the spatula by the pot rim. That means extra things to wash! While most pots have this feature, some pots might not so unfortunately you'll have to use the old way. Now that you know, will you be using this feature to hold your spatula?
Did you always know what the hole in the pot handle was for?