"You know the little plastic tags you find on the top of bread or other baked goods?" she can be heard saying in the video.
"Did you know that those coincide with the day that it was baked on! Call your sisters, call your brothers, Mario, Luigi the whole crew, because I'm about to blow this thing wide open."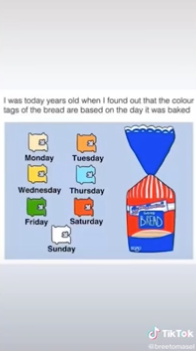 Other TikTok users were left surprised with one writing: "Omg, I never knew the colour meant anything, just figured each brand had a diff [sic] colour." Another commented: "I'm 30 and didn't know this. My mum who is 52 also didn't know this!"
However, others claimed they already knew this, with one writing: "As a bread contractor, I laugh when filling supermarket shelves and people are squinting to read the date." And another said: "Do people not know this? I thought it was something everyone knew?"
This isn't the first time a hack from the popular teen app has made headlines. An American woman recently made headlines after she shared her hack for keeping avocados fresh, and it's incredibly simple! In a post shared on TikTok, the woman, who goes by the username Kmag1, claimed it's her "greatest contribution to TikTok" and she could be right.
"You ready?" she says in the video. "How to save half of an avocado." She then grabs a container filled with water and places the avocado into it. "You're welcome," she says.
You see, avocados turn brown after they are cut open because of an enzyme called polyphenol oxidase which is found under the fruit's skin. When it's opened up the enzyme reacts with oxygen in the air which turns the avocado brown. But, cold water actually prevents oxygen from penetrating the skin and reacting with the enzyme, so it stays fresher for longer.