You'll be able to see how many drivers are in your area, and how many minutes away they are from your location.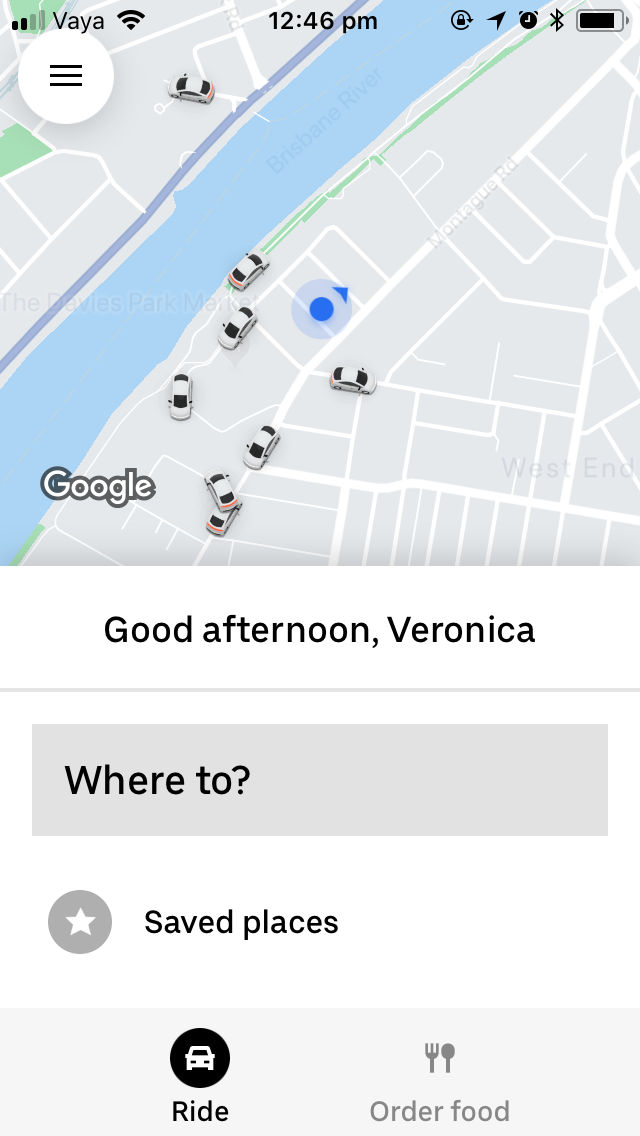 Step 2 – Choose your service
Uber offers several types of vehicles available to accommodate different group sizes, service needs and budgets, so there's something to suit every circumstance.
UberX
This is the standard vehicle and the lowest-cost Uber ride. Great for regular, short trips as well as sticking to a budget on longer journeys, an UberX seats one to four passengers.
UberXL
Also relatively low-cost, an UberXL provides passengers with a little more room than an UberX. It will seat up to six but can also be booked if you need extra space when, say, you're you have multiple bags or want to stretch out on a longer ride.
Comfort
Offering an elevated rider experience at an affordable price, Comfort is perfect for those times you want a little extra leg room. Only select vehicles qualify for this mode, so you know you're getting a ride where your comfort is priority.

Premier
If you want to arrive in style, this is the option for you! Premium rides take place in luxury cars and can accommodate up to four passengers – but you might want to try it out on your own to experience that VIP feeling.

Assist
This model is designed for passengers who use wheelchairs or mobility scooters or have mobility limitations that may require a bit of extra assistance from the driver, who's trained in mobility issues so he or she can be as helpful as you need. An Uber Assist can accommodate up to four people.  Available in selected cities and areas only.

UberPool
If you don't mind sharing your ride with a stranger, this is the cheapest way to use Uber. The ride booking process is the same, but you'll be matched with riders travelling in a similar direction – it's carpooling with a twist! Available in selected suburbs in Sydney, Melbourne and Perth only.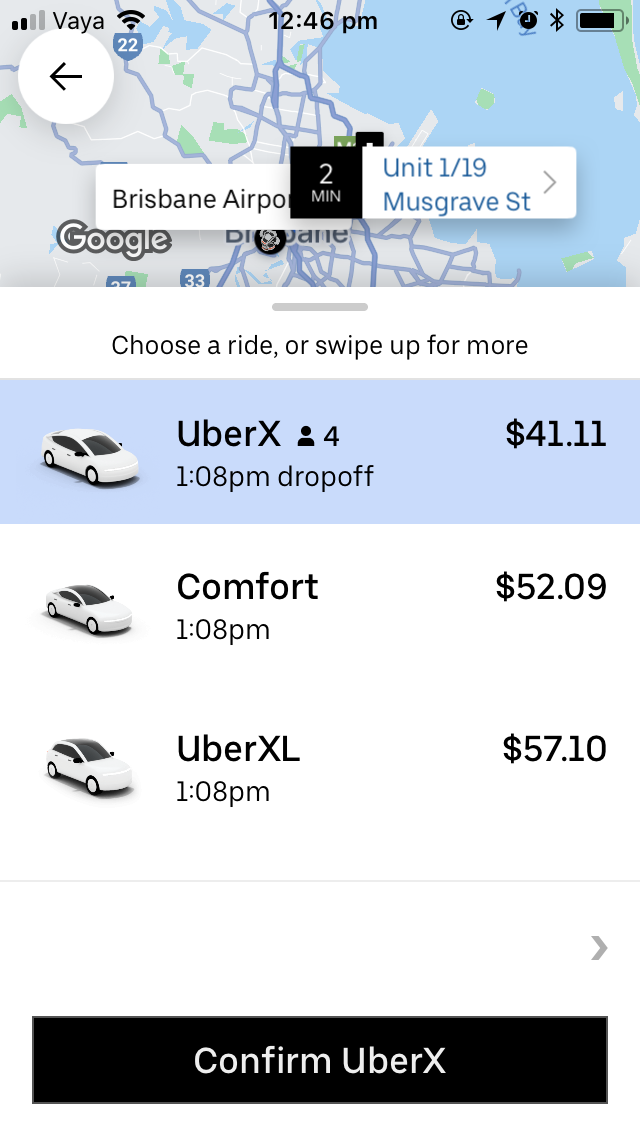 Step 3 – Meet your driver
Once you've entered your desired destination and chosen the type of vehicle you want, you'll be matched with a driver, whose full name, vehicle information and photograph will be shared with you, as well as their current location.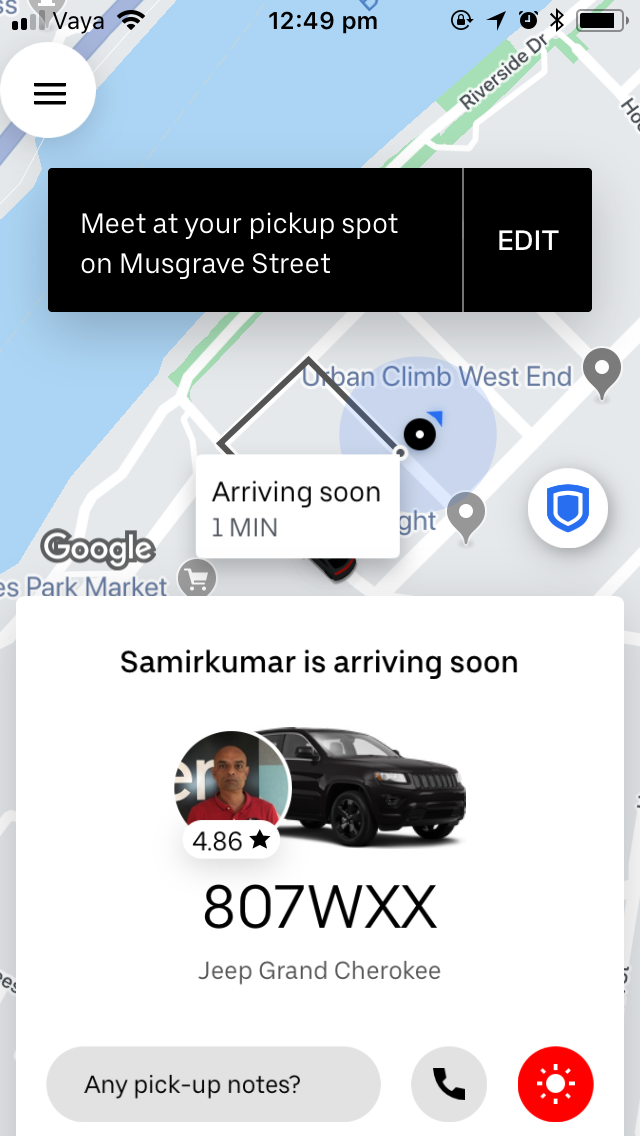 Once you've been matched, you'll be able to track your driver's progress on the map on your app so see how far away they are and how quickly they're progressing in your direction. You'll also receive a notification to let you know when they are two minutes away, and another again when they arrive. That's right – no more standing around on the kerb in the hot sun or the pouring rain for ages, wondering when your driver will turn up!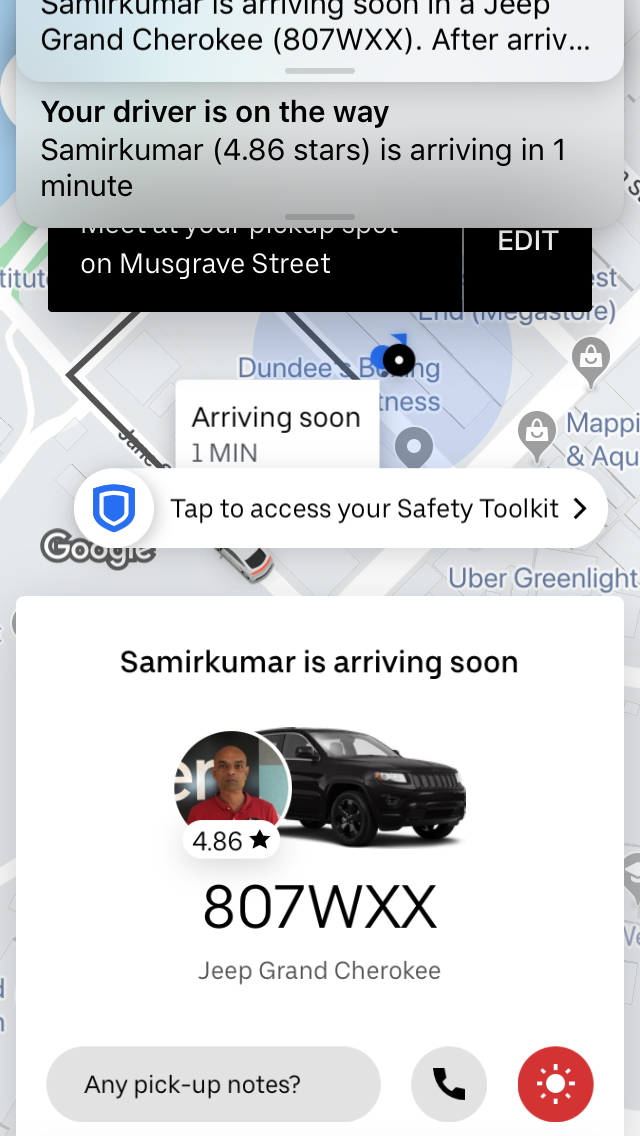 Step 4 – Check your ride
Every time you take an Uber ride, check the licence plate, make and model of the car to make sure you are getting into the right car. (If you're in a busy location, other people may have also ordered Uber pick-ups on the same street – it wouldn't be the first time someone got into the wrong Uber by mistake!)
This information will be provided for you in the app so you'll know which vehicle you're keeping an eye out for, and the car should also have a big Uber sticker displayed on its front or rear windscreens, which will make it easier to spot.
Step 5 – Enjoy your ride!
Once you've greeted your driver, sit back and relax! Uber has strict guidelines for the types of cars that drivers can use, so you'll find them to be clean and modern. Many drivers add to the experience by offering water, sweets or mints; most are happy to have music on or off or change radio station if you ask, and will adjust the air-conditioning for your comfort.
Uber's upfront pricing model simplifies the whole process. Before you request a ride, the app will provide you with an estimated fare, meaning there's no need to stress as a meter ticks away.
Even when Uber fares rise during busy times – which is known by ride-sharing companies as surge pricing – you'll be given an upfront fare so you know how much you will be charged ahead of time. You can also use the price estimator on Uber's website to get an idea of the cost of a ride well ahead of booking it.
After you reach your destination, there's no hassle finding change or using your card to pay – everything is taken care of through the app.
Step 6 – Rate your ride
Once you reach your destination, you'll be prompted by the Uber app to rate your ride. Five stars will appear on your screen and you can choose how many to rate your driver, based on your experience. The driver will also rate you as a rider.
There is also an option to provide a tip for the driver, if you had an excellent experience with them.
You might still have questions about how Uber works in every circumstance, though, and you'll certainly find the answer with its detailed guide to using Uber.