Is there a book you think "I wish I had written that"?
No. Though I wouldn't mind the royalties from The Very Hungry Caterpillar by Eric Carle!
What are you currently reading?
The Woman Who Fooled The World – Belle Gibson's Cancer Con by Beau Donelly & Nick Toscano. It's brilliant, fascinating, sad, and disturbing.
What are you writing at present?
Another "heart-warming journey of self-discovery story". I don't discuss my work publicly until the book is almost published. It's not a superstition I have, it's just that so much can change during the editing process.
Are you a planner or do your books form organically?
It depends on the book. My preference is to plan, but I always remain open to characters and storylines evolving and changing direction. Some of the most exciting discoveries happen organically and can end up being the best and strongest parts of a story or character. For me, writing is very much about tapping into my subconscious and listening to my intuition – allowing whatever needs to to come out. Having said that, I'll never start writing a book until I know what my character learns and how the story ends.
What was your first job?
Junior typist at the local Council office. I loathed it within six weeks and stayed seven and a half years because it was a 'good job' and employment opportunities were very limited. I was also too accepting of my upbringing that suggested life was to be endured rather than enjoyed. Thank goodness I'm a much more evolved person these days! I now think life is both too long and too short to do something you don't truly enjoy and wish more people had the courage to chase their dreams. I'm proof dreams can come true! Passion and willpower are forces that can achieve great things and are too often underestimated and/or dismissed. And we can live with a lot less than the marketers and advertisers will have us believe…
When I'm not writing I'm …………….?
Reading, watching TV or a movie, attending to my two rescue moggies, pottering in the garden, going for a drive, catching up with friends – all the while thinking about writing. Being creative is pretty constant and can be quite exhausting. I have a head full of characters and storylines whirring around that I'm constantly asking to shoosh and wait their turn! It's a blessing and a wonderful problem to have for a writer but, as I said, it can be draining and often leaves little room for much else.
What is the most outrageous/bravest/silliest thing you have done in your life?
Chasing my dream of being a full-time novelist through a decade of rejections – it's all of the above rolled into one!
What brings you joy?
Life. Writing. Reading. My cats. My few dear friends. Solitude. Nature. Art. These days I'm able to find joy very easily – I'm living my dream and my life is pretty darned perfect.
Is there a book you keep re-reading; something that never gets old for you or where you still find nuances?
No. I rarely re-read books – if ever.
Is there a character you really identify with, either in one of your books or indeed another author's work?
I identify strongly with all of my own characters – it's essential to the success of my stories that I do. It helps that they tend to contain elements of myself and are usually on a similar journey to what I've been on myself.
Are you looking forward to ageing? Why/Why not?
We're all ageing from the day we're born – it's unavoidable and I don't think it's something to look forward to or not. I refuse to buy into the anti-ageing industry – I'm at peace with my wrinkles and greying hair. It's been a tough journey for me at times, but I've lived, loved and laughed plenty – and I have the worry and laughter lines to prove it!
I'm forty-seven, which I don't have a problem saying, either. I'm content with who I've become and where I'm at. I love that I've learnt so much, become so strong and independent and wise – and all that only comes with ageing and experiencing the good, the bad and the ugly along the way.
While I'm doing my best to plan for the future, I try to stay focused on the here and now. I'm aiming to get to the end of my life with my sense of humour intact. Hopefully, I'll have good physical health and plenty of my marbles left, too!
*****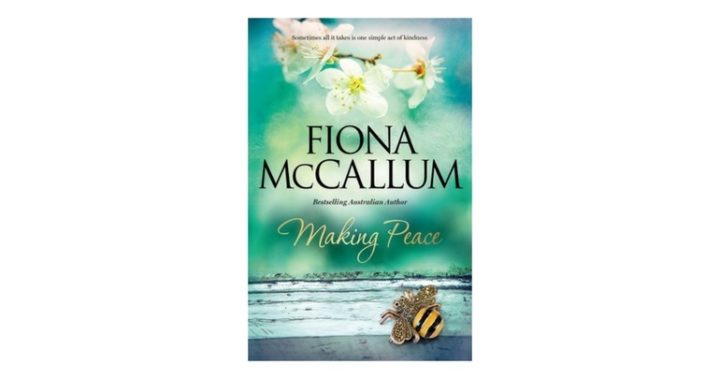 Making Peace, by Fiona McCallum,  published by HQ Fiction, is available in printed or digital editions. Click here for details.