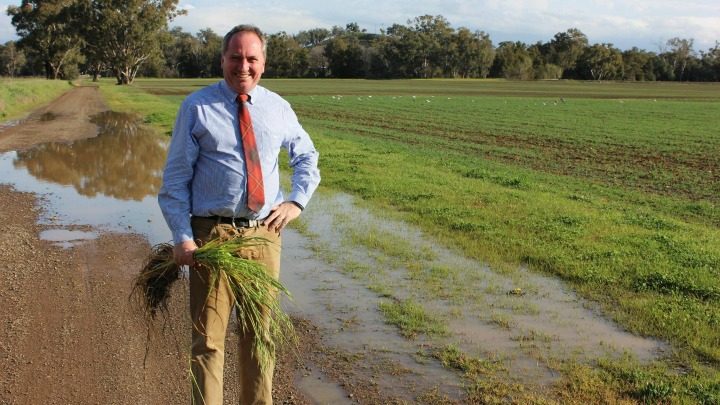 You've got to hand it to deputy prime minister Barnaby Joyce; he's been incredibly good humoured about this whole Johnny Depp-Amber Heard dog thing.
While Australians have applauded Barnaby for having stood his ground on biosecurity in Australia and taken the celebrities to task for their dismissive attitude towards Australia's laws by sneaking their dogs in while Johnny was filming in 2014, he has also copped ridicule in the United States.
Unable to beat the agriculture minister with any intelligence, and having been more than a little humiliated at that humble apology (no Oscar nomination there, Johnny), the Pirates of the Caribbean star then started with the name calling.
Depp appeared on Jimmy Kimmel Live! in the US where he made reference to Barnaby Joyce's appearance. "He looks inbred with a tomato," the actor was quoted as saying.
A lesser man would have been more than a little upset with the jibe, but not our Barnaby. Seeing the lighter side of Johnny Depp's quip, the Member for New England shared a photograph of himself and 'a bag full of cousins' on his Facebook page.
He was captured holding a bag of tomatoes in Bingara on the Gwydir River where he had been campaigning as part of the Federal election, and captioned the pic "just catching up with a bag full of cousins at Bingara".
It's hard to believe this spat has been going on for nearly two years, but it has provided strong discussion about the importance of biosecurity as well as a lot of amusement across the world.
Having received more than 400 comments to the photography, many praised Barnaby Joyce for his sense of humour.
What do you think of Barnaby Joyce's light-hearted response? Do you feel that a sense of humour is lacking in Australian politics?
Comments