Idol darling Kelly Clarkson fires up internet with smacking comments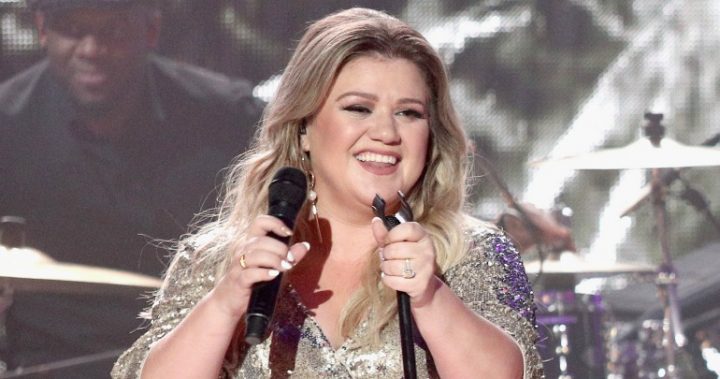 She captured the hearts of people around the world after becoming the first winner of American Idol, but Kelly Clarkson's recent comments about her parenting techniques has caused debate.
The 35-year-old, who has sold millions of albums and topped charts around the globe, says she spanks her children and has no problem with it – unless many parents of her age, who shun the old-school disciplinary technique.
The mother-of-two talked about the issue American radio show 98.9 The Buzz and the conversation has since been uploaded online. "I'm not above a spanking, which most people aren't necessarily into," she admitted on the show. "I don't mean like, hitting her hard. I just mean a spanking."
The star went on to say that she was spanked as a child and felt it hadn't had any long-term impact. "So my parents spanked me and I did fine in life and I feel fine about it, but I do that, too," Clarkson explains.
Ad. Article continues below.
She did say that she struggles, though, when it comes to disciplining her children in public, especially because she is a celebrity. "That's a tricky thing when you're out in public cause then people are like, you know," she said, alluding to the current disapproval of smacking.
"They think that's wrong or something, but I find nothing wrong with a spanking."
Ad. Article continues below.
Kelly is the mother of two children. Her oldest daughter, River Rose, is three, while son Remington Alexander is just one. She suggested that it was River Rose who she needed to spank in order for her to behave.
"I warn her. I'm like, 'Hi. I'm going to spank you on your bottom if you don't stop right now. Like, this is ridiculous.'"
She hinted that her Texan upbringing, where she said views on spanking were generally favourable, had influenced her, explaining how her mother would even give permission for other people to spank her. "My mum would call the principal like, if I ever ended up in the principal's office and give permission for her to spank me."
Her comments divided people on the internet, with many blasting the singer for her parenting techniques.
Ad. Article continues below.
One person on Twitter wrote: "Spanking is disgusting, unacceptable and is a basically a form of physical violence and is abuse. You may have turned out 'fine'. But continuing violent disciplinary fear tactics instead of teaching is frankly abuse apologist and triggering to abuse survivors".
Ad. Article continues below.
Another agreed, writing: "Just saw an article about you spanking your daughter. I beg you to research the science behind why you shouldn't. It's important for the future of the world."
Others agreed with Kelly, with one lady writing: "I got spanked as a kid (never beat), it taught me boundaries & I learned quickly. There is a big difference between spanking & beating. Good for you that you stand up for your values, yes it is ok to spank! You are a good mom!"
Another message read: "Good for you Kelly Clarkson, kids these days have no discipline and it starts with us as parents! There is NOTHING wrong with spanking your child! People that think it is a problem then you are part of the problem not the solution!"
What do you think? Is it acceptable to spank a child when they've misbehaved, or should parents find other ways of controlling their kids?