Mythbusting: Does Vicks on the feet really stop coughing?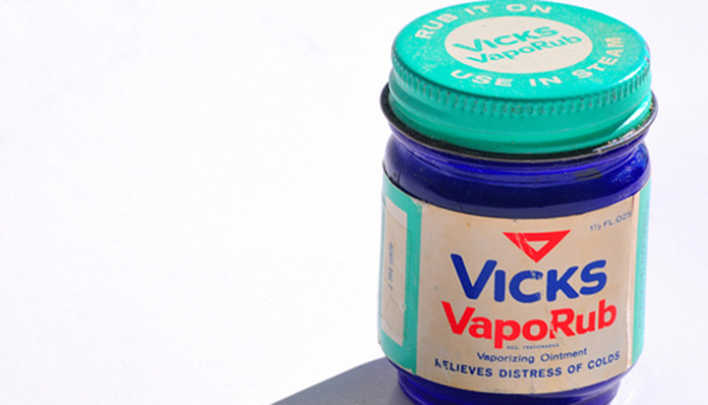 I saw an alert on my Facebook wall this morning that sucked me in, but unlike others who might have believed it and tried it tonight, it caused me to go look for evidence.  You may have seen it yourself, or perhaps you've heard through friends that rubbing Vicks Vaporub on your feet works to prevent coughing. You might even say it has become widely spoken about enough to be called an urban myth.
We're not sure how many believe it and live by it.  But… we're going to break the bubble open today.
This is the specific status that I saw today… Sorry if you're one of those people who posted it. We're just trying to help.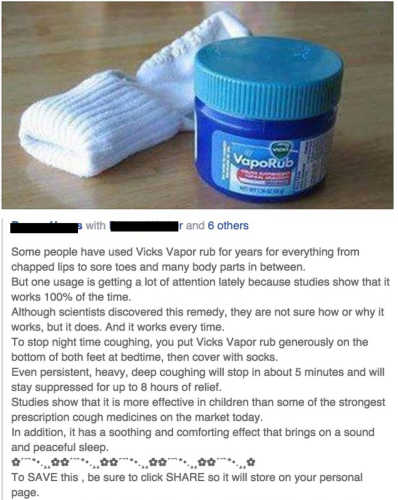 Ad. Article continues below.
"Some people have used Vicks Vapor rub for years for everything from chapped lips to sore toes and many body parts in between.
But one usage is getting a lot of attention lately because studies show that it works 100% of the time.
Although scientists discovered this remedy, they are not sure how or why it works, but it does. And it works every time.
To stop night time coughing, you put Vicks Vapor rub generously on the bottom of both feet at bedtime, then cover with socks.
Even persistent, heavy, deep coughing will stop in about 5 minutes and will stay suppressed for up to 8 hours of relief.
Studies show that it is more effective in children than some of the strongest prescription cough medicines on the market today.
In addition, it has a soothing and comforting effect that brings on a sound and peaceful sleep."
The first clue here should be the claim that it works "100% of the time."
The second big identifying factor should be that you saw it on a facebook page that people share virally.  Funnily enough, this hoax has been around since 2007, and was originally sourced back to an apparent claim by the Canadian Research Council (sorry folks – this institute doesn't even exist).   The National Research Council of Canada, which is a thing, had to come forward with a statement saying that no such study involving Vicks Vaporub had ever been conducted at the NRC.
So, if we look at it, it seems a little odd that we'd all so easily believe such a strange rumour and let it permeate so widely that we tell it to others.  Could it be that we all believe just a little bit in reflexology, the correspondence of the hands and feet to the other organs of the body?  People have taken the belief in foot-related detox so far that they have been sold foot spas and detox pads in fact, which have been shown to be a load of gumpf.
Ad. Article continues below.
So, we have to ask… does it work on the feet at all?  Even less than 100% of the time?
The menthol in Vaporub does apparently have some soothing abilities on its own, but it's most effective for coughing and nasal congestions when it's close enough for you to actually breathe it in. That's why they recommend putting it on your chest, because there the vapours are actually able to travel into your nasal passages. Your feet are nowhere near your nasal passages. Therefore, it's probably not going to do a whole lot for you.
And whilst  there is no medical explanation as to why applying Vicks on feet for getting rid of coughs works. According to paediatricians, the possible explanation of why it could be seen to work could be because the child can inhale the Vicks even when it is applied on the feet. Another explanation could be because the menthol in the vapor rub dilates the blood vessels in the feet causing reflexes that soothe the cough.
Then, there is the Theory of Counter Irritation.  According to this theory, internal morbid processes can be relieved of any external irritation so created. Vicks vapor rub contains menthol, eucalyptus and camphor which stimulate blood flow to the skin causing counter irritation.
Ad. Article continues below.
Actually, folk medicines worked in similar ways. Applying poultices and liniments which contain mild irritants like garlic and mustard to the soles of the feet and the chest to relieve cough and colds. The method has been used for hundreds of years.
It seems, unless you are a hopeful optimist that Vicks Vaporub, as with all medications, should only be used as directed.
And don't forget! If you see something that sounds too good to be true on the Internet, you should really do a Google search before you pass the information on.