Warming roasted Italian sweet potato soup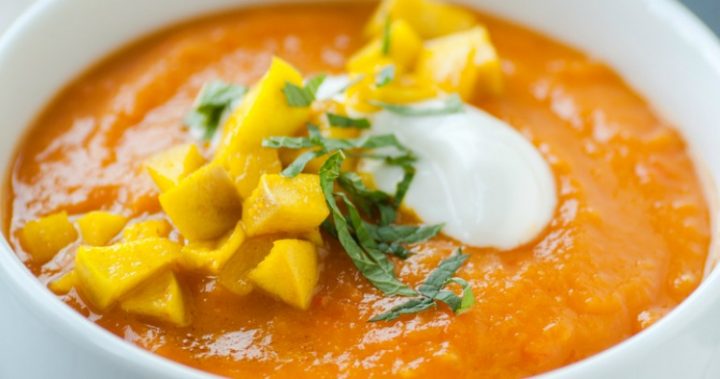 It has been a bitterly cold winter this year, and with another month to go before spring officially arrives, why not make the most of the cold and get in all the tasty soups you can?
This delicious roasted Italian sweet potato soup will warm your frozen body as well as your soul, and make the freezing days totally worth it!
With its rich roasted flavour, and tasty combination of herbs, and served with freshly grated parmesan and sour cream, you won't be able to get enough!
Ingredients
2 large sweet potatoes peeled, and diced
2-3 tablespoons olive oil
1/3 cup olive oil
Salt and pepper to taste
2 cloves garlic, crushed
1 heaped tablespoon dried parsley
1/4 cup fresh chives sliced
1/2 teaspoon dried thyme
1/2 teaspoon dried rosemary
1 heaped tablespoon dried basil
1/2 teaspoon dried oregano
500ml vegetable stock
3 cups almond milk
Fresh thyme, oregano, basil or rosemary, for garnish if desired
Parmesan and sour cream, to serve
Method

1. Preheat oven to 200C and line a baking tray with nonstick baking paper.
2. Place diced sweet potatoes on tray. Mix together olive oil, garlic, parsley, chives, thyme, rosemary, basil and oregano, and brush all over sweet potatoes.
3. Cover with foil, and roast for 30 minutes. Remove foil, turn potatoes, and bake for a further 15 minutes uncovered.
4. Transfer to a large saucepan and mash with a potato masher. Stir in vegetable stock and almond milk and cook on a low heat for around 10 minutes. If you'd like your soup smoother, you can blend further with a stick mixer.
5. Ladle soup into bowls, and serve with grated parmesan, fresh herbs, and a dollop of sour cream.